The Franklin Mystery Library books were produced in both imitation leather and full genuine leather. The imitation leather copies do not have an attached silk page marker, and the genuine leather copies do include the silk page marker. Listed are the 51 titles that were published in the Franklin Mystery Masterpieces series.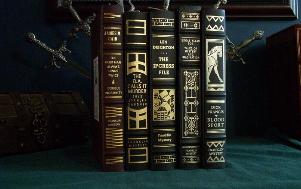 Mousetrap and other plays by Agatha Christie - 1987
Rebecca by Daphne Du Maurier - 1987
The Great cases of Sherlock Holmes by Arthur Conan Doyle - 1987
The day of the Jackal by Frederick Forsyth - 1987
Ashenden (or British agent) by W. S. Maugham - 1987
The Maltese Falcon by Dashiell Hammett - 1987
Tales of mystery and imagination by Edgar Allan Poe - 1987 (black cover - gold bug)
Tales of mystery and imagination by Edgar Allan Poe - 1987 (red cover )
The Patience of Maigret by George Simenon - 1987
Trent's Last Case by E. C. Bently - 1988
The 39 Steps by John Buchan - 1988
Postman always rings twice by James M. Cain - 1988
Farewell My Lovely by Raymond Chandler - 1988
The Moonstone by Wilkie Collins - 1988
The Ipcress File by Len Deighton - 1988
Blood Sport by Dick Francis - 1988
The Mystery of Edwin Drood by Charles Dickens - 1988
The Man from the Sea by Michael Innes - 1988
Tinker Tailor Soldier Spy by John Le Carre - 1988
Fer-De-Lance by Rex Stout - 1988
Anatomy of Murder by Robert Traver - 1988
Picture of Dorian Gray by Oscar Wilde - 1988
Great American Mysteries by various authors - 1989
The House without a Key by Earl Derr Biggers - 1989
Laura by Vera Caspary - 1989
The Innocence of Father Brown by G. K. Chesterton - 1989
The Long Divorce by Edmund Crispin - 1989
D.A. calls it Murder by Erle Stanley Gardner - 1989
Ghostly Tales by Henry James - 1989
A Kiss before Dying by Ira Levin - 1989
Thank you Mr. Moto and Mr. Moto is so sorry by John P. Marquand - 1989
The Roman Hat Mystery by Ellery Queen - 1989
Murder Must Advertise by Dorothy Sayers - 1989
Strange case of Dr. Jekyll & Mr. Hyde by Robert Louis Stevenson - 1989
The Bride wore Black by Cornell Woolrich - 1989
Great British Mysteries of the 20th century by various authors - 1990
The Tiger in the Smoke by Margery Allingham - 1990
A coffin for Dimitrios by Eric Ambler - 1990
The Beast must Die by Nicolas Blake - 1990
The Benson Murder Case by S. S. Van Dine - 1990
Payment Deferred by C. S. Forester - 1990
Quiet as a Nun by Antonia Fraser - 1990
Raffles by E. W. Hornung - 1990
Compulsion by Meyer Levin - 1990
The Lodger by Marie Belloc Lowndes -1990
Overture to Death by Ngaio Marsh - 1990
The Red House Mystery by A. A. Milne - 1990
The Man in the corner by Baroness Orczy - 1990
The Door by Mary Rinehart - 1990
The Insidious Dr. Fu Manchu by Sax Rohmer - 1990
The Daughter of Time by Josephine Tey - 1990
The Crimson Circle by Edgar Wallace - 1990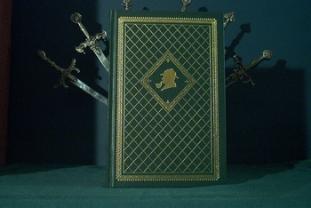 Example of full genuine leather bound Franklin Mystery versions.