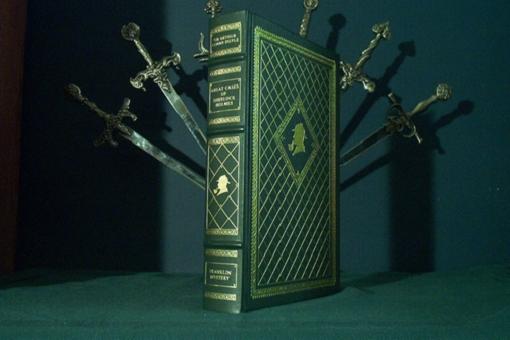 Easton Press Arthur Conan Doyle books:
Adventures of Sherlock Holmes
The Final Adventures of Sherlock Holmes
Adventures of Sherlock Holmes 3 volume set
The Poison Belt - Masterpieces of Science Fiction - 1989
Lost World - Masterpieces of Science Fiction - 1995

Franklin Library Arthur Conan Doyle books:
The Best of Sherlock Holmes - Collected Stories of the World's Greatest Writers - 1977
The Great Cases of Sherlock Holmes - Library of Mystery Masterpieces - 1987
Arthur Conan Doyle biography
Arthur Conan Doyle (1859-1930) was a British physician, novelist, and detective-story writer who was born in Edinburgh, and educated at Stonyhurst College and the University of Edinburg. From 1882 to 1890 Arthur Conan Doyle practised medicine in Southsea, England. A Study in Scarlet, the first of sixty-eight stories featuring his famous fictional detective, Sherlock Holmes, appeared in 1887. Arthur Conan Doyle was so speedily successful in his literary career that about five years later he abandoned his medical practice to devote his entire time to writing. The Holmes stories, of which the best known are The Sign of the Four (1889), The Adventures of Sherlock Holmes (1891), and The Hound of the Baskervilles (1902), made Arthur Conan Doyle internationally famous. His remarkable literary versatility brought him equal fame for his historical romances, such as Micah Clarke (1888), The White Company (1890), and Sir Nigel (1906). Arthur Conan Doyle served in the Boer War as a physician, and on his return to England wrote The Great Boer War (19000 And The War in South Africa; Its Causes and Conduct (1902), for which he was knighted in 1902. During World War 1, he wrote History of the British Campaign in France and Flanders (6 vols., 1915-20) as a tribute to British bravery. After the death of his eldest son in the war, Arthur Conan Doyle became an advocate of spiritualism and toured Australia, Africa, and the U.S. in the interest of his new belief. During the last part of his life, he wrote extensively on spiritualism.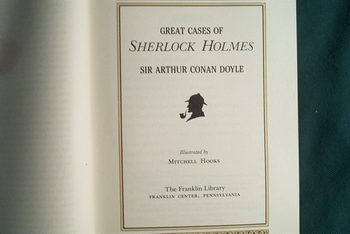 The Great Cases of Sherlock Holmes
Sherlock Holmes, scourge of criminals everywhere, whether they be lurking in London's foggy backstreets or plotting behind the walls of an idyllic country mansion, and his faithful colleague Dr Watson solve these breathtaking and perplexing mysteries. In The Great Cases of Sherlock Holmes we encounter some of his most famous and devilishly difficult problems.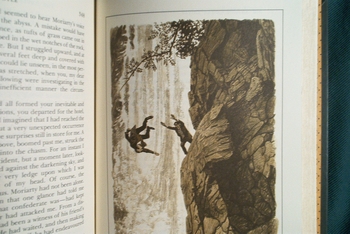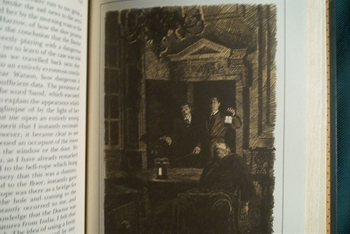 The Adventures of Sherlock Holmes
The Adventures of Sherlock Holmes is the series of short stories that made the fortunes of the Strand magazine, in which they were first published, and won immense popularity for Sherlock Holmes and Dr Watson. The detective is at the height of his powers and the volume is full of famous cases, including "The Adventure of the Red-Headed League", "A Case of Identity", "The Boscombe Valley Mystery", "The Five Orange Pips", "The Man with the Twisted Lip", "The Adventure of the Blue Carbuncle", "The Adventure of the Speckled Band", "The Adventure of the Engineer's Thumb", "The Adventure of the Noble Bachelor", "The Adventure of the Beryl Coronet" and "The Adventure of the Copper Beeches". Although Holmes gained a reputation for infallibility, Conan Doyle showed his own realism and feminism by having the great detective defeated by Irene Adler the woman in the very first story, 'A Scandal in Bohemia'.
What made Sherlock Holmes a household name and cultural icon? This very first collection of stories featuring the astute sleuth and his loyal assistant, Dr. Watson. In these twelve ingenious mysteries, Holmes is embroiled in betrayal, abduction, thievery, deception, and murder. Relying on logic, driven by instinct, and employing his uncanny powers of observation, Holmes cracks the cases that elude Scotland Yard. For him, it's rather elementary.

This Baker Street dozen by Sir Arthur Conan Doyle is all the evidence readers will need to understand why Sherlock Holmes is an enduring legend in detective fiction.
The Best of Sherlock Holmes
What would the genre of detective fiction be without the inimitable Sherlock Holmes? One can only speculate as to its state given the absence of its most famous character. Based on Doyle's own list of best stories and expanded to include several other reader favorites, this collection includes his very best tales. Stories such as:
A Study in Scarlet This is Dr Arthur Conan Doyle's first Sherlock Holmes book. In A Study in Scarlet, Dr. John Watson, discharged from the military service after suffering severe wounds, is at a loose end until a chance encounter leads him to take rooms with an amazing young man. The arrogant Sherlock Holmes is a master chemist, and an expert on all aspects of crime. And when Watson is drawn into the investigation of a bizarre murder in which Holmes is involved, he is unaware that this is the beginning of the most famous crime solving partnership of all time.

The Sign of Four In India, four men swear an oath to keep a terrible secret, a secret drenched in blood, which is the key to huge wealth. In order to unlock the secret, Holmes and Watson accompany a beautiful young woman on a quest that leads them through the dark heart of London to a one-legged man, a terrifying creature, and an incredible tale of greed and revenge. The Sign of Four is truly a detective classic.

The Valley of Fear A coded warning of impending danger sends Sherlock Holmes and Dr Watson to the fortress-like country home of Jack Douglas. When they arrive too late to prevent a tragic death, the great detective and his partner must follow a series of baffling clues to find a murderer who has vanished into thin air. An exciting classic Sherlock Holmes mystery.

The Final Adventures of Sherlock Holmes
For decades it had been generally accepted that the complete canon of Sir Arthur Conan Doyle's Sherlock Holmes adventures consists of fifty-six stories and four novels. But there had also been persistent rumors of a number of additional items that Conan Doyle wrote about his world-famous detective which, for one reason or another, have never been included in any collected edition.
These missing items, including stories, plays, and poems, have been rescued from obscurity and published together in one volume, providing the last remaining authentic accounts of the great sleuth.

The Lost World - Professor Challenger series book 1
It's London, 1907. Journalist Edward Malone, rejected by the woman he loves because he is too prosaic, decides to go in search of adventure and fame to prove himself worthy of her. Soon after, he meets Professor George Challenger, a scientist who claims to have discovered a 'lost world' populated by pterodactyls and other prehistoric monsters.


The Poison Belt - Professor Challenger series book 2
The Poison Belt is a science fiction novel by British writer Arthur Conan Doyle, the second book about Professor Challenger. Written in 1913, much of it takes place in a single room in Challenger's house in Sussex. This would be the last story written about Challenger until the 1920s, by which time Doyle's spiritualist beliefs had begun to influence his writing.