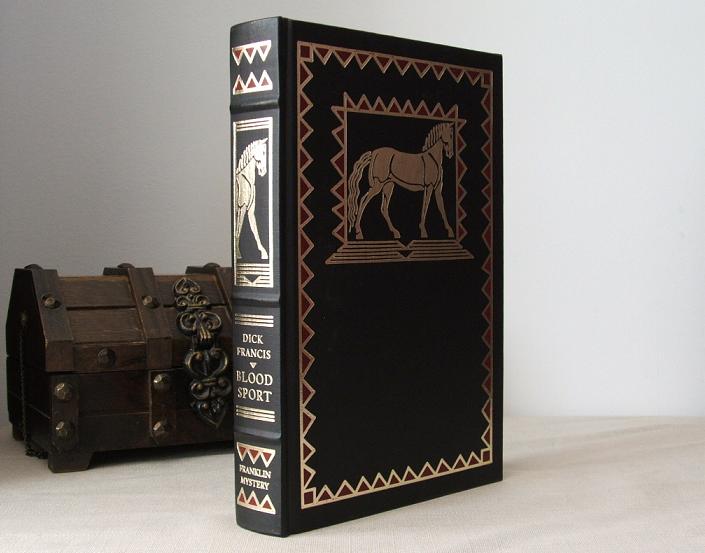 Easton Press Dick Francis books
Dead Cert - Signed Limited Edition - 2000


Franklin Library Dick Francis books
Blood Sport - Library of Mystery Masterpieces - 1988
Dead Cert
Dick Francis, the bestselling master of mystery and suspense, takes you into the thrilling world of horse racing

Steeplechaser Alan York knows well the dangers of the sport. But when his best friend and rival Bill Davidson takes a fall in the middle of a race and doesn't get up again, Alan discovers it was no accident. Someone rigged a tripwire to take down the running horse.

The more Alan investigates, the more he suspects that there is more to the plot than just murderous horseplay. But even as he approaches the finish line to this mysterious race, those responsible for his friend's death are already planning for Alan to have a mysterious accident of his own...

Originally published in 1962, "Dead Cert" was the first of the bestselling thrillers which have made Dick Francis one of the most popular and successful writers in the world. "Dead Cert" is about Alan York, an amateur jockey, who finds himself tangling dangerously with a ruthless gang of crooks. A pretty girl, an intelligent child, a fuel on a horseback and a manhunt across the Sussex countryside are some of the ingredients in this gripping thriller about the shady side of the racing world. The background is superbly authentic and the pace would not shame a two-mile hurdle race.

As jockey Alan York looked at the back of Bill Davidson astride the great horse Admiral, one thing was different. Before his rival reached the last hurdle, he was dead. Alan knew racing was dangerous; he also knew Bill's death was no accident. It was the kind of knowledge that could get a man killled....



Blood Sport
English agent Gene Hawkins is restlessly facing three weeks of vacation with only his tormented past for company. So when his boss asks him to help millionaire Dave Teller locate a prized missing stallion, he accepts. But he gets more action than he bargained for when he draws the affection of his boss' beautiful teenage daughter, advances from Teller's socialite wife, and the deadly attention of the horse thieves, who would be happy to put Hawkins out to pasture...permanently.