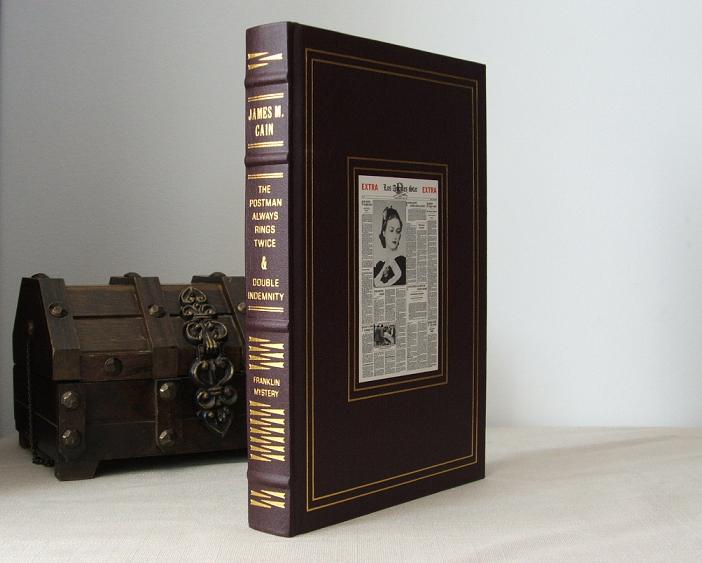 Easton Press James M. Cain books:
The Postman Always Rings Twice

Franklin Library James M. Cain books:
The Baby in the Icebox - Limited First Edition Society - 1981
The Postman Always Rings Twice & Double Indemnity - Library of Mystery Masterpieces - 1988
The Postman Always Rings Twice
Cain's first novel the subject of an obscenity trial in Boston and the inspiration for Camus's The Stranger is the fever-pitched tale of a drifter who stumbles into a job, into an erotic obsession, and into a murder.

When Frank, an amoral young drifter, gets thrown off a hay truck in the California desert, he ends up at a diner run by Cora and her inconvenient husband, Nick. This chance meeting puts them all on a sure path to perdition. First published in 1934 and banned in Boston for its explosive mixture of violence and eroticism, The Postman Always Rings Twice is a classic of the roman noir. It established James M. Cain as a major novelist with an unsparing vision of America's bleak underside and was acknowledged by Albert Camus as the model for The Stranger.

Double Indemnity
Double Indemnity which followed Postman so quickly, Cain's readers hardly had a chance to catch their breath is a tersely narrated story of blind passion, duplicity, and, of course, murder. Mildred Pierce, a work of acute psychological observation and devastating emotional violence, is the tale of a woman with a taste for shiftless men and an unreasoned devotion to her monstrous daughter. All three novels were immortalized in classic Hollywood films. Also included here are five masterful stories Pastorale, The Baby in the Icebox, Dead Man, Brush Fire and The Girl in the Storm that have been out of print for decades.
The Baby in the Icebox and Other Short Fiction
There is a hungry tiger loose in the house, and that is not good news for anyone. A jealous husband let the animal out of his cage hoping he would eat his wife alive, but tigers aren't used to taking orders. This jungle cat will get his meal, and he doesn't care where it comes from.

The Baby in the Icebox begins with a murdered wildcat and ends with a dead human and what comes in between is some of the most striking prose James M. Cain ever put to paper. It is one of the first stories this master of crime fiction ever wrote, and it shows all the hallmarks of the novels that would later make him famous namely Double Indemnity and The Postman Always Rings Twice. The tales in this collection are short, but Cain never needed more than a few pages to thrill.

These are the elements of three stories highlighted by the streamlined prose, concise plots, and unique voice that also distinguish James M. Cain's classic novels Double Indemnity and The Postman Always Rings Twice. As Roy Hoopes points out in his incisive Introduction, James M. Cain wrote best when he wrote succinctly, and this collection proves the point.
The short stories, sketches and dialogues, and one novella in this book are filled with people caught in the cold-blooded grip of passion and fate. Every page is written in the crisp, fast-paced, caustically ironic style that made James M. Cain a master of the school of hard-boiled fiction.