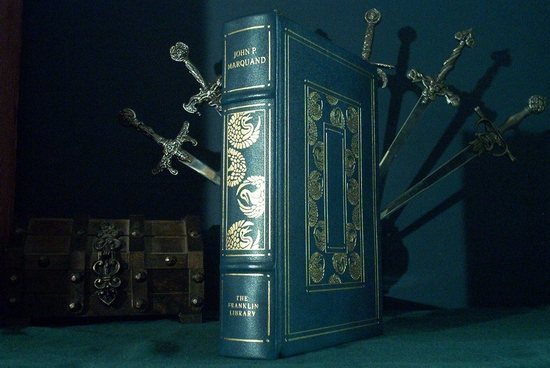 Franklin Library John P. Marquand books:
Mr. Moto's Three Aces - Collected Stories of the World's Greatest Writers - 1980
The Late George Apley - Pulitzer Prize Classics -1984
Thank you Mr. Moto and Mr. Moto is so sorry - Library of Mystery Masterpieces - 1989
John P. Marquand biography

John Phillips Marquand (1893-1960) was an American writer who was born in Wilmington, Delaware, attended Harvard University. John P. Marquand was assistant to the managing editor of the Boston Transcript from 1915 to 1917 and worked in the Sunday department of the New York Herald Tribute in 1919 and 1920. The first of John P. Marquand books was The Unspeakable Gentleman (1922). As a writer of American detective stories, John P. Marquand was known for his creation of the fictional Japanese detective Mr. Moto, the main character in Thank You, Mr Moto (1936) and other detective stories by John P. Marquand. His most successful books satirized middle class society, particularly in that of Boston middle class; they include The Late George Apley (1937), which won John P. Marquand a Pulitzer Prize in 1938; Wickford Point (1939); and H. M. Pulham, Esq. (1941). Other books by John P. Marquand include So Little Time (1943), Repeat in Haste (1945), B.F.'s Daughter (1946), Point of No Return (1949), Melvin Goodwin, USA (1951), Sincerely, Willis Wayde (1955), and Life at Happy Knoll (1957).
Tom Nelson, cynical American expatriate "gone native" in China, stumbles into the path of the expansionist Japanese government's incursion into Northern China and is catapulted out of his world-weary apathy. Also, if not quite so innocently, caught in the gossamer but deadly web of Japanese plans is Eleanor Joyce, a woman on a mission, full of secrets, pure, bright, and lovely. Enter Mr. Moto, the suave and courageous Japanese agent committed to serving his emperor yet "so very very sorry" that innocent lives must hang in the balance. It is he who brought Eleanor and Tom together and now it is he who must try to save them.
Times were turbulent in the Orient. Japan, China and Russia were willing to go to any lengths to obtain their goals. The Japanese had their top Secret Agent, the super-polite, but super-deadly Mr. I.A. Moto, working night and day. Moto's prime objective was the safe delivery to Mongolia of a silver inlaid cigarette case...a very special case. To the uninformed it would appear to be a simple enough task, but you can be sure that whenever Mr. Moto is involved, nothing is what it seems.
The Late George Apley
Sweeping us into the inner sanctum of Boston society, into the Beacon Hill town houses and exclusive private clubs where only the city's wealthiest and most powerful congregate, this novel gives us through the story of one family and its patriarch, the recently deceased George Apley the portrait of an entire society in transition. Gently satirical and rich with drama, the novel moves from the Gilded Age to the Great Depression as it projects George Apley's world and subtly reveals a life in which status and accomplishment mask disappointment and regret, a life of extreme and enviable privilege that is nonetheless an imperfect life.