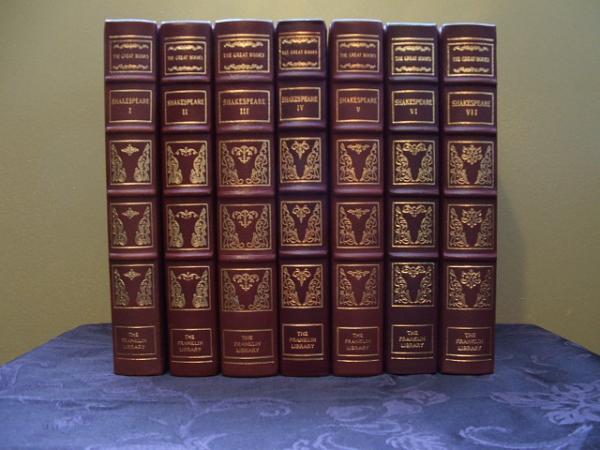 Easton Press William Shakespeare books:
Many William Shakespeare titles have been published by the Easton Press. Included here are more common editions.

Hamlet - 100 Greatest Books Ever Written - 2008
Midsummers Night's Dream - 100 Greatest Books Ever Written - 2008
Romeo and Juliet - 100 Greatest Books Ever Written - 2008

William Shakespeare Poems - Library of Poetry

The Tempest - 2001

Three volume set (1980) including:
The Histories
The Tragedies
The Comedies

The Complete Works in 39 Volumes, including titles:
King Lear
Titus Andronicus
Twelfth Night
The Taming of the Shrew
The Comedy of Errors
Much Ado About Nothing
Anthony and Cleopatra
The Tempest
Timon of Athens
Julius Caesar
Troilus and Cressida
As You Like It
Macbeth
All's Well That Ends Well
The Two Gentlemen of Verona
The Winter's Tale
Coriolanus
The Merchant of Venice
Pericles
Othello
Measure for Measure
King John
A Midsummer Nights Dream
Romeo and Juliet
The Poems of William Shakespeare I
The Poems of William Shakespeare II
Cymbeline
Hamlet
Love's Labour's Lost
The Merry Wives of Windsor
Henry the Fourth I
Henry the Fourth II
Henry the Fifth
Henry the Sixth I
Henry the Sixth II
Henry the Sixth III
Henry the Eighth
Richard the Second
Richard the Third

Shakespeare of London - Marchette Chute - 1988
Tales From Shakespeare - Charles and Mary Lamb - 1996
Franklin Library William Shakespeare books:
Six Tragedies - 100 Greatest Books of All Time - 1975
Eight Comedies - 100 Greatest Books of All Time -1978
Works of William Shakespeare - Great Books of the Western World - seven books 1978 to 1983
Poems - World's Best Loved Books - 1980
Poems - 100 Greatest Books of All Time - 1980
Six Histories - 100 Greatest Books of All Time - 1981
Six Tragedies - World's Best Loved Books - 1982
Seven Comedies - World's Best Loved Books - 1983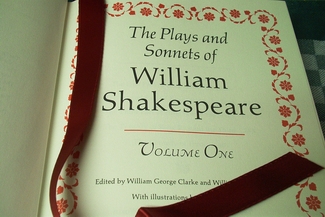 Popular titles by William Shakespeare

Hamlet
Among Shakespeare's plays, "Hamlet" is considered by many his masterpiece. Among actors, the role of Hamlet, Prince of Denmark, is considered the jewel in the crown of a triumphant theatrical career. Now Kenneth Branagh plays the leading role and co-directs a brillant ensemble performance. Three generations of legendary leading actors, many of whom first assembled for the Oscar-winning film "Henry V", gather here to perform the rarely heard complete version of the play. This clear, subtly nuanced, stunning dramatization, presented by The Renaissance Theatre Company in association with "Bbc" Broadcasting, features such luminaries as Sir John Gielgud, Derek Jacobi, Emma Thompson and Christopher Ravenscroft. It combines a full cast with stirring music and sound effects to bring this magnificent Shakespearen classic vividly to life. Revealing new riches with each listening, this production of "Hamlet" is an invaluable aid for students, teachers and all true lovers of Shakespeare - a recording to be treasured for decades to come.


Macbeth
One night on the heath, the brave and respected general Macbeth encounters three witches who foretell that he will become king of Scotland. At first sceptical, he's urged on by the ruthless, single-minded ambitions of Lady Macbeth, who suffers none of her husband's doubt. But seeing the prophecy through to the bloody end leads them both spiralling into paranoia, tyranny, madness, and murder.

This shocking tragedy (a violent caution to those seeking power for its own sake) is, to this day, one of Shakespeare's most popular and influential masterpieces.


Romeo and Juliet
In Romeo and Juliet, Shakespeare creates a violent world, in which two young people fall in love. It is not simply that their families disapprove; the Montagues and the Capulets are engaged in a blood feud.

In this death-filled setting, the movement from love at first sight to the lovers' final union in death seems almost inevitable. And yet, this play set in an extraordinary world has become the quintessential story of young love. In part because of its exquisite language, it is easy to respond as if it were about all young lovers.


The Tempest
Putting romance onstage, The Tempest gives us a magician, Prospero, a former duke of Milan who was displaced by his treacherous brother, Antonio. Prospero is exiled on an island, where his only companions are his daughter, Miranda, the spirit Ariel, and the monster Caliban. When his enemies are among those caught in a storm near the island, Prospero turns his power upon them through Ariel and other spirits.

The characters exceed the roles of villains and heroes. Prospero seems heroic, yet he enslaves Caliban and has an appetite for revenge. Caliban seems to be a monster for attacking Miranda, but appears heroic in resisting Prospero, evoking the period of colonialism during which the play was written. Miranda's engagement to Ferdinand, the Prince of Naples and a member of the shipwrecked party, helps resolve the drama.


King Lear
Shakespeare's King Lear challenges us with the magnitude, intensity, and sheer duration of the pain that it represents. Its figures harden their hearts, engage in violence, or try to alleviate the suffering of others. Lear himself rages until his sanity cracks. What, then, keeps bringing us back to King Lear? For all the force of its language, King Lear is almost equally powerful when translated, suggesting that it is the story, in large part, that draws us to the play.

The play tells us about families struggling between greed and cruelty, on the one hand, and support and consolation, on the other. Emotions are extreme, magnified to gigantic proportions. We also see old age portrayed in all its vulnerability, pride, and, perhaps, wisdom one reason this most devastating of Shakespeare's tragedies is also perhaps his most moving.