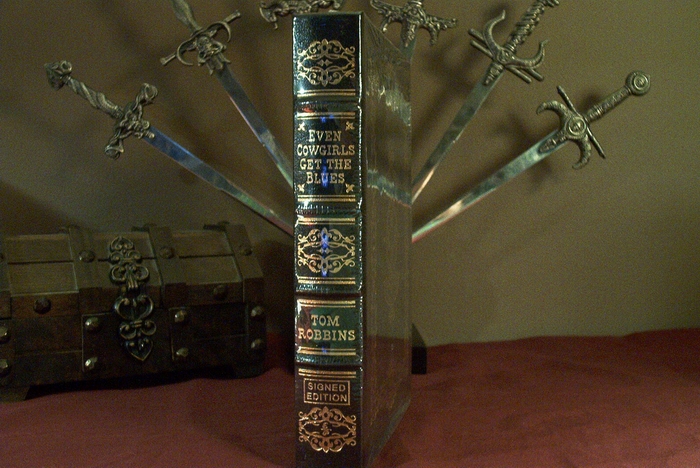 Easton Press Tom Robbins books:
Even Cowgirls get the Blues - signed modern classic - 2003
Franklin Library Tom Robbins books:
Fierce Invalids Home from hot climates - signed first edition - 2000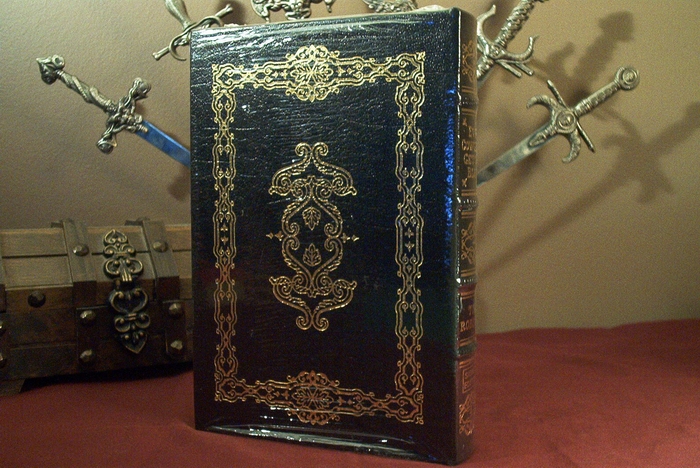 Even Cowgirls Get the Blues
Starring Sissy Hanshaw flawlessly beautiful, almost. A small-town girl with big-time dreams and a quirk to match hitchhiking her way into your heart, your hopes, and your sleeping bags...

Featuring Bonanza Jellybean and the smooth-riding cowgirls of Rubber Rose Ranch. Chink, lascivious guru of yams and yang. Julian, Mohawk by birth; asthmatic esthete and husband by disposition. Dr. Robbins, preventive psychiatrist and reality instructor...

Follow Sissy's amazing odyssey from Virginia to chic Manhattan to the Dakota Badlands, where FBI agents, cowgirls, and ecstatic whooping cranes explode in a deliciously drawn-out climax...
Fierce Invalids Home from Hot Climates
Switters is a contradiction for all seasons: an anarchist who works for the government; a pacifist who carries a gun; a vegetarian who sops up ham gravy; a cyberwhiz who hates computers; a man who, though obsessed with the preservation of innocence, is aching to deflower his high-school-age stepsister (only to become equally enamored of a nun ten years his senior). Yet there is nothing remotely wishy-washy about Switters. He doesn't merely pack a pistol. He is a pistol. And as we dog Switters' strangely elevated heels across four continents, in and out of love and danger, discovering in the process the "true" Third Secret of Fatima, we experience Tom Robbins that fearless storyteller, spiritual renegade, and verbal break dancer at the top of his game. On one level this is a fast-paced CIA adventure story with comic overtones; on another it's a serious novel of ideas that brings the Big Picture into unexpected focus; but perhaps more than anything else, Fierce Invalids is a sexy celebration of language and life.