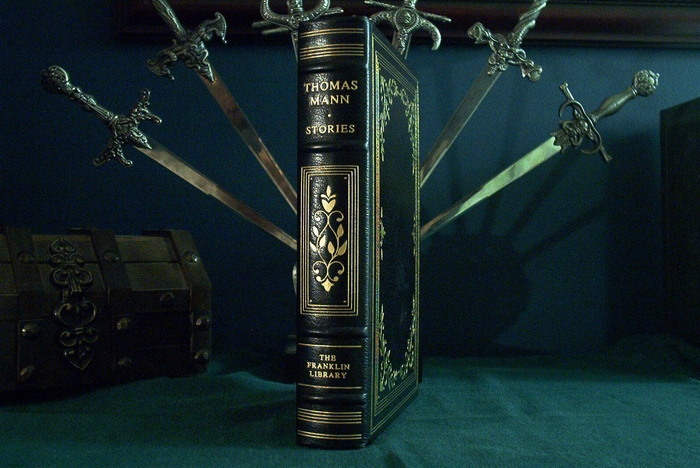 Easton Press Thomas Mann books:
Death in Venice - 1997
The Magic Mountain - Great Books of The Twentieth Century - 1999

Franklin Library Thomas Mann books:
Five Stories by Thomas Mann - 100 Greatest Books of All Time - 1977
Stories of Thomas Mann - Collected Stories of the World's Greatest Writers - 1978
The Magic Mountain - Greatest Books of the Twentieth Century - 1979
The Magic Mountain - Great Books of the World's Greatest Writers (imitation leather) - 1981

Thomas Mann biography
Thomas Mann, (1875-1955), was a German American author and critic who was born in lubeck and attended school in Munich. He was the brother of Heinrich Mann and father of Klaus and Erika Mann. In his youth Thomas Mann was a clerk at an insurance company in Munich. Later he served on the staff of the Munich satiric journal Simplicissimus, before writing as a full time career. Thomas Mann was one of the most important German authors of the early 20Th century. His books explore the relationship between the exceptional individual and his environment, either of the family or of the world in general; they are characterized by accurate reproduction of details of both early 20Th century and ancient living, by profound intellectual analysis of ideas and characters, and by a detached, somewhat ironic view point combined with a deep sense of the tragic circumstances of life.

Thomas Mann wrote many short stories and novels including Buddenbrooks (1901), which was his first important book. Some of the other books by Thomas Mann include Fiorenza (1906), a poetic drama about the conflict between artist men and their environment; Tonio Kroger (1903); Bekenntnisse des Hockstapiers Felix Krull (1911); Death in Venice (1912); and The Magic Mountain (1924), which remains Thomas Mann's most famous book and is recognized as one of the greatest books of the 20Th century. In The Magic Mountain Thomas Mann analysed early 20Th century society and civilization.

Thomas Mann continued to write numerous other books, and was a critic of politics and literature. In 1929 he was awarded a Nobel Prize in literature, and shortly after, he fled Germany and, in 1944, he became an American citizen. Thomas Mann continued to write books in America including Doctor Faustus (1947), and The Holy Sinner (1951). Thomas Mann eventually moved to Switzerland, where he passed away 1953.
The Magic Mountain
In this dizzyingly rich novel of ideas, Mann uses a sanatorium in the Swiss Alps, a community devoted exclusively to sickness, as a microcosm for Europe, which in the years before 1914 was already exhibiting the first symptoms of its own terminal irrationality.

The Magic Mountain is a monumental work of erudition and irony, sexual tension and intellectual ferment, a book that pulses with life in the midst of death.
Death in Venice
Published on the eve of World War I, a decade after Buddenbrooks had established Thomas Mann as a literary celebrity, Death in Venice tells the story of Gustav von Aschenbach, a successful but aging writer who follows his wanderlust to Venice in search of spiritual fulfillment that instead leads to his erotic doom.
In the decaying city, besieged by an unnamed epidemic, he becomes obsessed with an exquisite Polish boy, Tadzio. "It is a story of the voluptuousness of doom," Mann wrote. "But the problem I had especially in mind was that of the artist's dignity."