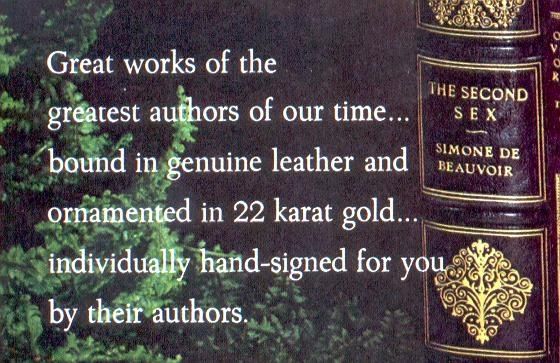 Franklin Library Simone De Beauvoir books
The Second Sex - signed limited edition - 1979
The Second Sex
Simone de Beauvoir's masterwork is a powerful analysis of the Western notion of "woman," and a groundbreaking exploration of inequality and otherness. This long-awaited new edition reinstates significant portions of the original French text that were cut in the first English translation. Vital and groundbreaking, Beauvoir's pioneering and impressive text remains as pertinent today as it was back then, and will continue to provoke and inspire generations of men and women to come.

First published in Paris in 1949, The Second Sex by Simone de Beavoir was a groundbreaking, risqué book that became a runaway success. Selling 20,000 copies in its first week, the book earned its author both notoriety and admiration.

Since then, The Second Sex has been translated into forty languages and has become a landmark in the history of feminism. Required reading for anyone who believes in the equality of the sexes, the central messages of The Second Sex are as important today as they were for the housewives of the forties.

Of all the writing that emerged from the existentialist movement, Simone de Beauvoir's groundbreaking study of women will probably have the most extensive and enduring impact. It is at once a work of anthropology and sociology, of biology and psychoanalysis, from the pen of a writer and novelist of penetrating imaginative power.

The Second Sex stands, four decades after its first appearance, as the first landmark in the modern feminist upsurge that has transformed perceptions of the social relationship of man and womankind in our time.

The essential masterwork that has provoked and inspired generations of men and women. "From Eve's apple to Virginia Woolf's room of her own, Beauvoir's treatise remains an essential rallying point, urging self-sufficiency and offering the fruit of knowledge." - Vogue



The Second Sex is a hymn to human freedom and a classic of the existentialist movement. It also has claims to be the most important single book in the history of feminism. In the forty years since its publication De Beauvoir's then revolutionary thesis that the subordination of women is not a fact of nature but the product of social conditioning has become part of our everyday thinking.

Simone de Beauvoir famously wrote, 'One is not born, but rather becomes, woman'. In this groundbreaking work of feminism she examines the limits of female freedom and explodes our deeply ingrained beliefs about femininity. Liberation, she argues, entails challenging traditional perceptions of the social relationship between the sexes and, crucially, in achieving economic independence.

Drawing on sociology, anthropology and biology, The Second Sex is as important and relevant today as when it was first published in 1949.