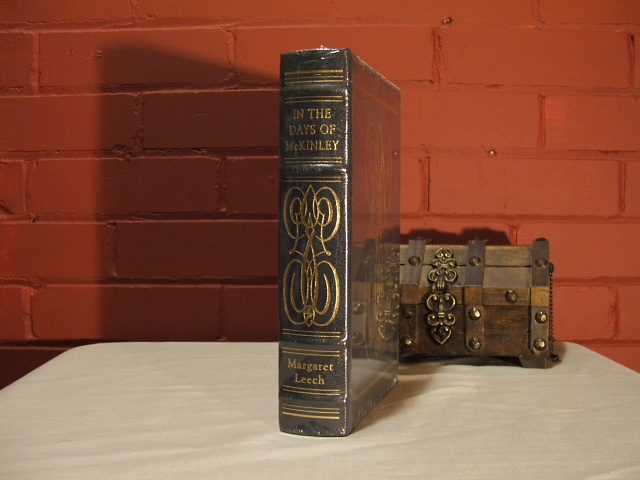 Easton Press books:
In the days of McKinley - Margaret Leech - 1986




President William Mckinley biography
William Mckinley (1843-1901), American statesman and twenty-fifth President of the Untied States, born in Niles Ohio, and educated a Allegheny College, Pennsylvania, and Albany Law School, New York. William McKinley taught school for a short period, and later worked in the post office of Poland Ohio. He joined the twenty-third Ohio volunteers in June, 1861, following the outbreak of the Civil War. He distinguished himself in action at Antietam, and was recommended for promotion by Colonel Rutherford B. Hayes, later President of the United States. William McKinley was made second lieutenant in September, 1862. He rose to brevet major at the time of his discharge in July, 1865; and he was commonly known by the title Major during his later political life. He immediately took up study of law in Youngstown, Ohio, and completed his preparation with a course at Albany Law School. William McKinley practiced law a Canton Ohio, and was elected prosecuting attorney of Stark County in 1869

In 1875, when Rutherford Hayes ran for governor of Ohio, William McKinley took an active part in his campaign, and attracted widespread attention by speeches favoring resumption of specie payments. William McKinley was elected to the House of Representatives as a Republican in the following year, and served from 1877 to 1883. He was narrowly defeated in a hotly contested election for a seat in the 48th Congress; but re-entered Congress in 1885, serving until 1891, when he was again defeated. William McKinley became a member of the Ways and Means Committee in 1880, when James A. Garfield, later President of the United States, was transferred to the Senate. In the committee, McKinley developed a special interest in tariff policy. He drafted the tariff plank of the Republican platforms for two subsequent campaigns. Shortly before the end of his last term, McKinley, as chairman of the Ways and Means Committee, sponsored the protectionist Tariff Bill OF 1890, which commonly bears his name. The controversial bill won McKinley an international reputation. Having been elected governor of Ohio in 1891, with the support of the political machine of Marcus A. Hanna. William McKinley refused the Republican Presidential nomination in favor of Benjamin Harrison at the convention of 1892. During his four years as governor, William McKinley established a State Board of Arbitration, at a time when the organization of labor was just beginning to become a major national issue.

William McKinley finally ran for President in 1896, still with the support of Hanna, after winning the Republican nomination on the first ballot. His opponent, William Jennings Bryan, made a strong agrarian and free silver campaign, traveling 18,000 miles and making 600 speeches. William McKinley did not leave Canton, but made some 300 speeches to an estimated million persons who came to hear him. He won the election by plurality of only 600,000 popular votes, but received 271 electoral votes as against 176 electoral votes for William Jennings Bryan.

William McKinley's administration is most notable for the great expansion of American overseas territories, including Puerto Rico, Guam, and the Philippine islands, during and after the Spanish-American War. The McKinley administration, in an action without precedent in American history, also organized local government throughout the newly liberated country of Cuba, and provided for the transfer of power to an independent Cuban government. In July, 1898, President William McKinley approved the annexation of the Hawaiian Islands, which two years later received a Territorial government and the right to a delegation in Congress. William McKinley was re-nominated in 1900 and again defeated William Jennings Bryan, by a larger margin that that of the first contest. In September, 1901, less than one year after his second inauguration, President William McKinley was shot by Leon Czolgosz, an American anarchist, while visiting the Pan-American Exposition in Buffalo, New York. He died of his wounds eight days later, on September 14; and was succeeded by then Vice-President Theodore Roosevelt as President of the United States.