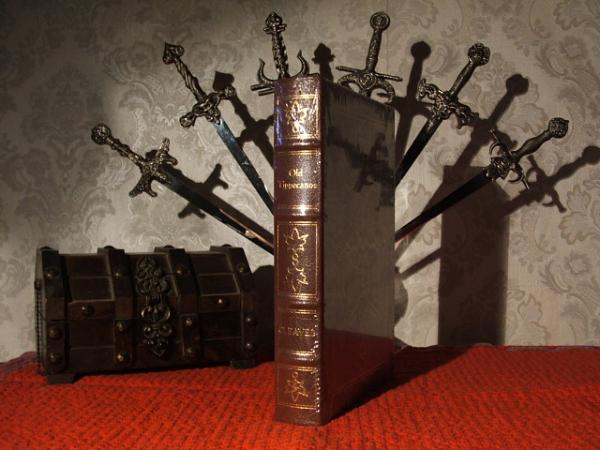 Easton Press books:
Old Tippecanoe, William Henry Harrison and His Time - Freeman Cleaves - 1986




President William Henry Harrison

William Henry Harrison (1773-1841), American soldier and statesman, ninth President of the United States, son of Benjamin Harrison, signer of the Declaration of Independence, and grandfather of President Benjamin Harrison, twenty-third President of the United States. William Harrison was born in Berkley, Charles City Co., Va., and attended Hampden-Sidney College in Va. and the College of Physicians and Surgeons in Philadelphia.

William Harrison served in the United States Army form 191 to 1798, when President John Adams appointed him secretary of the North-west Territory. He became the delegate in Congress of the Territory in 1799, and was the first Territorial delegate ever to sit in Congress; in the following year he was appointed governor of the then newly created territory of Indiana. President Thomas Jefferson and President James Madison subsequently reappointed him and he served until 1812; his tenure of office was marked by conciliatory policies toward the Indians, with whom he negotiated about thirteen treaties providing land for their use. When hostilities with the Indians led by the Shawnee Chief Tecumseh broke out in 1811, William Harrison won a decisive victory at the battle of Tippecanoe.

During the War of 1812 William Harrison was in command of the American forces of the Northwest and was promoted to the rank of major general. In September, 1813, he won a signal victory over the British forces and their Indian allies in the battle of the Thames in Canada.

After the war William Henry Harrison was a representative of Ohio in the United States House of Representatives from 1816 to 1819 and in the United States Senate from 1825 to 1828; in the next year he served as the first United States minister to Colombia. Thereafter he lived in retirement but emerged in 1835 to become the presidential nominee for the Whigs. He was defeated in the election but was re-nominated in 1839; John Tyler of Virginia was his running mate. The election campaign of that year was made notable by the innovation of political mass meetings and processions, theretofore unknown in Presidential elections. William Harrison's simple life, his associations with the democratic life of a frontiersmen, and his military exploits were emphasized during the campaign in a number of effective slogans, among which "Tippecanoe and Tyler too" was the most popular. President William Harrison won an overwhelming victory. Thirty-one days after his Inauguration as ninth President of the United States he died of pneumonia; he was the first President to die in office.