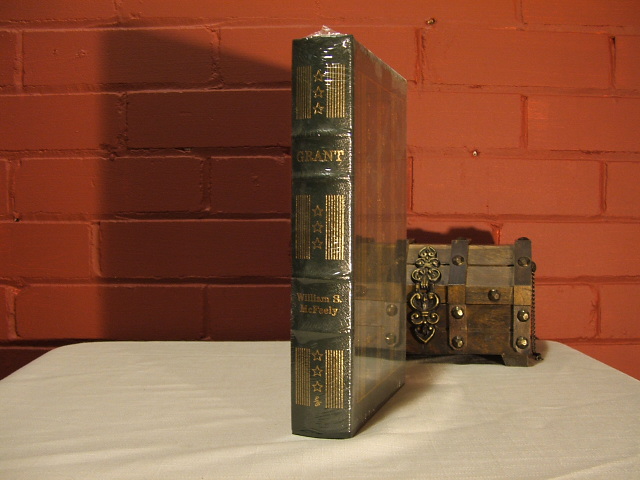 Easton Press books:
Grant: A Biography - William S. McFeely - 1987
Lee and Grant a Dual Biography - Gene Smith - 1987
Personal Memoirs of President Ulysses Grant - 1989
Web of Victory: Grant at Vicksburg - Civil War Library - Earl Schenck Miers - 1996



President Ulysses S. Grant biography
Ulysses Simpson Grant (1822-1885), American soldier and 18th President of the Unites States, born in Point Pleasant, Ohio. As a boy he worked on his father's farm and in has tannery in Georgetown, Ohio, to which the Grant family had moved in 1823. He attended school in Georgetown and in Maysville, Kentucky, and in 1839 received an appointment to the United States military Academy at WestPoint, New York; through an error in the application filled out by the congressman who sponsored him, Grant's given names were entered on the Academy's rolls not as Ulysses Hiram (his baptismal names in reverse order), but as Ulysses Simpson, the names which Grant continued to use thereafter.

At West Point Grant displayed proficiency in mathematics and engineering, and excelled in horsemanship. He graduated in 1843, was commissioned a second lieutenant, and was assigned to the fourth United States Infantry Regiment, which was subsequently included in the army commanded by Zachary Taylor in the newly admitted State of Texas. Following the outbreak of hostilities with Mexico in 1846, Ulysses S. Grant fought with distinction under Taylor in the battles of Palo Alto, Resaca de la Palma, and Monterey. After being transferred to the command of General Winfield Scott, Ulysses S. Grant took part in the campaign which resulted in Scott's capture of Mexico City in 1847. In recognition of his bravery under fire, Ulysses S. Grant was promoted, during the campaign, to first lieutenant, and at its close to captain. He remained on duty in Mexico until 1848.

Later Ulysses S. Grant was assigned to garrison duty in Michigan and in 1852, at Fort Vancouver on the Columbia River. While at the latter post, he began the first of a series of varied business enterprises which met with little financial success. A transfer to California followed in 1853. There, disheartened by barracks life and the separation from his wife, whom he had married in St. Louis in 1848, Ulysses S. Grant became addicted to alcohol. In 1854, offered the choice by his superiors of standing trial or of resigning, he chose the latter course.

With the aid of his father-in-law Ulysses S. Grant started farming in the vicinity of St. Louis. After four years of toil and little success, illness forced Ulysses S. Grant to abandon his farm. For the next two years he made a meager living in the real estate business in St. Louis, giving that up in 1860 to move to Galena, Illinois, where he worked as a clerk in his father's leather store until the outbreak of the Civil War.

In May, 1861, Ulysses S. Grant offered his services to the War Department, and in June was appointed a colonel in command of a regiment of volunteers and was dispatched to suppress guerilla warfare in Missouri. On August 7, President Abraham Lincoln made Grant a brigadier general of volunteers, and in September Ulysses S. Grant was given command of the military district comprising western Kentucky and southeastern Missouri, with headquarters in Cairo Illinois. Almost his first act in his new post was to seize the strategically situated Confederate base of Paducah, Kentucky at the confluence of the Ohio and Tennessee rivers. In February, 1862, Ulysses S. Grant won the first important Union victory of the war when, after taking Fort Henry on the Tennessee River, near the Kentucky - Tennessee border, he compelled the surrendered of Fort Donelson on the Cumberland River, about 12 miles to the east of Fort Henry. The offer by the Confederate commander of Fort Donelson, General S.B. Buckner, to negotiate an armistice, elicited from Ulysses s. Grant the statement that he could consider only the unconditional surrender of the Confederate force. Thereafter Ulysses S. Grant became known as "unconditional surrender Grant". In recognition of his signal success he was brevetted a major general.

Highly prejudicial journalistic reports of Ulysses S. Grant's conduct in the battle of Shiloh in April, 1862, up to that time the bloodiest battle of the war, led to widespread demands for his removal. Lincoln however, resisted the pressure put upon him with the explanation "I can't spare this man; he fights". In July, Ulysses S. Grant was placed n charge of the military district of West Tennessee, and in October he was given command of the military Department of Tennessee with the specific assignment of taking Vicksburg, Miss., a primary Confederate stronghold. After a series of defeats in the effort to approach and invest Vicksburg, Ulysses S. Grant finally, in May, 1863, laid siege to the city, which capitulated in July. As a result of the fall of Vicksburg, which followed soon after the victory of Gettysburg in the east, the Confederates lost control of the Mississippi River and was cut in two. Ulysses S. Grant was hailed a hero in the North and was rewarded with an appointment as a major general in the United States regular army. Another notable success was won by Ulysses S. Grant in November, 1863, with the battle of Chattanooga, which with other corollary successes opened the way to Georgia and resulted in General William Sherman's famous eastward "march to the sea".

Congress, in March 1864, conferred on Ulysses S. Grant the rank of lieutenant general, having received the rank for that purpose in February. A few days after his promotion Ulysses S. Grant assumed command for all United States forces, under Lincoln, and established his headquarters with the Army of the Potomac in the east. He at once began planning the campaign to take Richmond, Virginia. There followed the long series of battles in which Grant, out maneuvered by his great opponent, Robert E. Lee, and suffering heavier losses than Lee, nevertheless presses his weakening opponent back toward Richmond. Finally, after the Confederate citadels of Atlanta and Savannah, Georgia had fallen to Sherman, Ulysses S. Grant took Richmond on April 3, 1865. Six days later came the ultimate triumph for which Grant had striven, Lee's surrender at Appomattox Court House; the terms of the surrender imposed by Ulysses S. Grant were generous. In 1866 he was commissioned General of the Armies of the United States, and in 1867 he was appointed secretary of war in the cabinet of President Andrew Johnson.

The Republican National Convention meeting in Chicago 1868, unanimously nominated Ulysses S Grant for President. He won an easy victory over Democratic candidate Horatio Seymour, ex governor of New York State. In the field of foreign policy, President Ulysses S. Grant's term of office was marked by the negotiation of a treaty with Great Britain, providing for a solution to a number of serious disputes between the two nations, and by fruitless efforts to annex Santo Domingo. In the realm of domestic policy President Grant introduced a number of civil service reforms but evoked much criticism by favoring wealthy men in making Cabinet appointments and by showing marked favortism to members of his and his wife's families in making other appointments. More serious dissatisfaction with his administration was caused by a series of rail and stock speculations undertaken by leading financiers and industrialists. These speculations led to the attempt of Jay Gould and James Fisk to corner the gold market, which resulted on September 24, 1869, known as Black Friday in financial panic.

These scandals, however did not touch President Ulysses S. Grant personally, and in subsequently re-nominated for the office of the President. He won an even easier victory over his principal opponent, Horace Greeley, than he had over Seymour in 1868. Upon assuming his second term as President of the United States in 1873, President Ulysses S. Grant had to contend with the effects of one of the greatest scandals in the history of the United States, that of Credit Mobilier of America; charges of corruption involved congressmen, Federal judges, and Vice President Henry Wilson. Another serious problem was the financial panic which began in September as a result of unsound business expansion and currency inflation. As the country continued to be shocked by scandals involving public officials, President Ulysses S. Grant also began to lose public esteem. A severe blow to the reputation of his administration was the resignation in 1876 of his secretary of war, William Belknap, to avoid impeachment on charges of malfeasance in office.

After leaving the White House in 1877, President Ulysses S. Grant engaged in a number of unprofitable business ventures. In 1884 he became financially bankrupt. The final year of his life was spent in writing his personal memoirs, regarded as one of the great autobiographies of American Literature, and in a hopeless struggle with a cancerous growth in his throat.