Leather bound books on President Thomas Jefferson published by the Easton Press as special collector editions. These titles include works about Thomas Jefferson that may or may not have been included in the Easton Press Library of Presidents.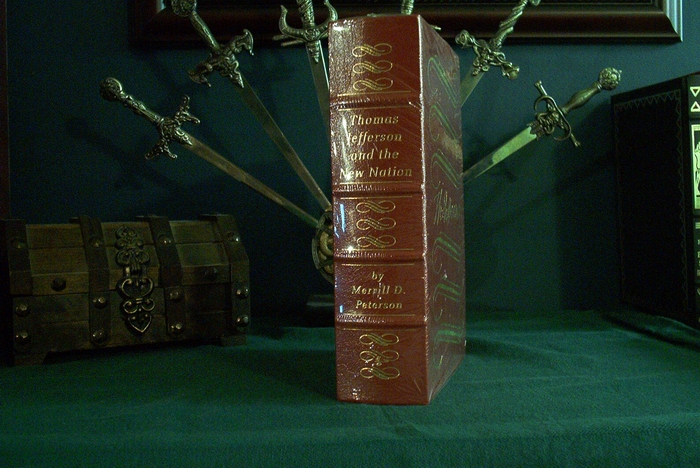 Easton Press books:
Thomas Jefferson and the New Nation - Merrell D. Peterson - 1987
The Shackles of Power: Three Jeffersonian Decades -
John Dos Passos
- 1988
The Pursuit of Reason: The Life of Thomas Jefferson - Noble E. Cunningham - 1992
The Writings of Thomas Jefferson - 2 volumes - 1993
Thomas Jefferson and His Time - 6 volume set - Malone Dumas - 1993
Vol. 1 - The Virginian
Vol. 2 - Jefferson and the rights of Man
Vol. 3 - Jefferson and the ordeal of Liberty
Vol. 4 - The President (first term 1801 - 1805)
Vol. 5 - The President (second term 1805 - 1809)
Vol. 6 - The Sage of Monticello
Undaunted Courage: Meriwether Lewis, William Clark, Thomas Jefferson, and the opening of the American West. -
Stephen Ambrose
- signed edition - 1998
American Sphinx: The charter of Thomas Jefferson - Joseph Jay Ellis - 2000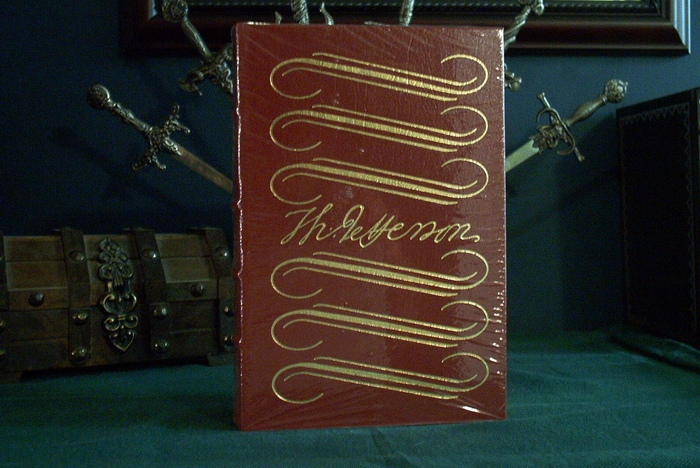 Thomas Jefferson and the New Nation: A Biography
The definitive life of Jefferson in one volume, this biography relates Jefferson's private life and thought to his prominent public position and reveals the rich complexity of his development. As Peterson explores the dominant themes guiding Jefferson's career democracy, nationality, and enlightenment and Jefferson's powerful role in shaping America, he simultaneously tells the story of nation coming into being.


The Pursuit of Reason: The Life of Thomas Jefferson
The authoritative single-volume biography of Thomas Jefferson, perhaps the most significant figure in American history. He was a complex and compelling a fervent advocate of democracy who enjoyed the life of a southern aristocrat and owned slaves, a revolutionary who became president, a believer in states' rights who did much to further the power of the federal government. Drawing on the recent explosion of Jeffersonian scholarship and fresh readings of original sources, The Pursuit of Reason is a monument to Jefferson that will endure for generations.


Jefferson and His Time
Dumas Malone's classic biography "Jefferson and His Time" originally published in six volumes over a period of thirty-four years, between 1948 and 1982 was awarded the Pulitzer Prize in history and became the standard work on Jefferson's life. Six volumes include:

Jefferson the Virginian
This is the first volume of distinguished historian Dumas Malone's Pulitzer Prize-winning six-volume work on the life and times of Thomas Jefferson. Based on vast sources, it covers Jefferson's ancestry, youth, education, and legal career; his marriage and the building of Monticello; the drafting of the Declaration of Independence and the Notes on Virginia; his rich, fruitful legislative career; his highly controversial governorship; and his early services to the development of the West.

Jefferson and The Rights of Man
The second volume in this Pulitzer Prize-winning biography tells the story of the eventful middle years in the life of Thomas Jefferson: his ministry to France in the years just before the French Revolution and during the early stages of that conflict; his service as secretary of state in President George Washington's first cabinet; the crucial period of his first differences with Alexander Hamilton and the beginnings of his long struggle with the Federalists.

Jefferson and The Ordeal of Liberty
This is the third volume in Dumas Malone's monumental multi-volume biography of Thomas Jefferson, Jefferson and His Time.

Jefferson the President: First Term, 1801-1805
A fascinating account of the details of Jefferson's first term, including the Louisiana Purchase, his duel with the Supreme Court & continued opposition to Hamiltonian doctrine, & his championing of science & learning at home & abroad.

Jefferson the President: Second Term, 1805-1809

The Sage of Monticello
The Sage of Monticello brilliantly recounts the accomplishments, friendships, and family difficulties of Jefferson's last seventeen years--including his retirement from Washington and the presidency, his correspondence with John Adams and James Madison, his mounting personal tribulations, and his role in the founding of the Library of Congress and the University of Virginia, where he proved himself to be an extraordinary educator and architect as well as a statesman. This is a fitting final chapter in the life of one of America's greatest men.


American Sphinx
For a man who insisted that life on the public stage was not what he had in mind, Thomas Jefferson certainly spent a great deal of time in the spotlight and not only during his active political career. After 1809, his longed-for retirement was compromised by a steady stream of guests and tourists who made of his estate at Monticello a virtual hotel, as well as by more than one thousand letters per year, most from strangers, which he insisted on answering personally. In his twilight years Jefferson was already taking on the luster of a national icon, which was polished off by his auspicious death (on July 4, 1826); and in the subsequent seventeen decades of his celebrity now verging, thanks to virulent revisionists and television documentaries, on notoriety has been inflated beyond recognition of the original person.

For the historian Joseph J. Ellis, the experience of writing about Jefferson was "as if a pathologist, just about to begin an autopsy, has discovered that the body on the operating table was still breathing." In American Sphinx, Ellis sifts the facts shrewdly from the legends and the rumors, treading a path between vilification and hero worship in order to formulate a plausible portrait of the man who still today "hovers over the political scene like one of those dirigibles cruising above a crowded football stadium, flashing words of inspiration to both teams." For, at the grass roots, Jefferson is no longer liberal or conservative, agrarian or industrialist, pro or anti-slavery, privileged or populist. He is all things to all people. His own obliviousness to incompatible convictions within himself (which left him deaf to most forms of irony) has leaked out into the world at large a world determined to idolize him despite his foibles.

From Ellis we learn that Jefferson sang incessantly under his breath; that he delivered only two public speeches in eight years as president, while spending ten hours a day at his writing desk; that sometimes his political sensibilities collided with his domestic agenda, as when he ordered an expensive piano from London during a boycott (and pledged to "keep it in storage"). We see him relishing such projects as the nailery at Monticello that allowed him to interact with his slaves more palatably, as pseudo-employer to pseudo-employees. We grow convinced that he preferred to meet his lovers in the rarefied region of his mind rather than in the actual bedchamber. We watch him exhibiting both great depth and great shallowness, combining massive learning with extraordinary naïveté, piercing insights with self-deception on the grandest scale. We understand why we should neither beatify him nor consign him to the rubbish heap of history, though we are by no means required to stop loving him. He is Thomas Jefferson, after all our very own sphinx.