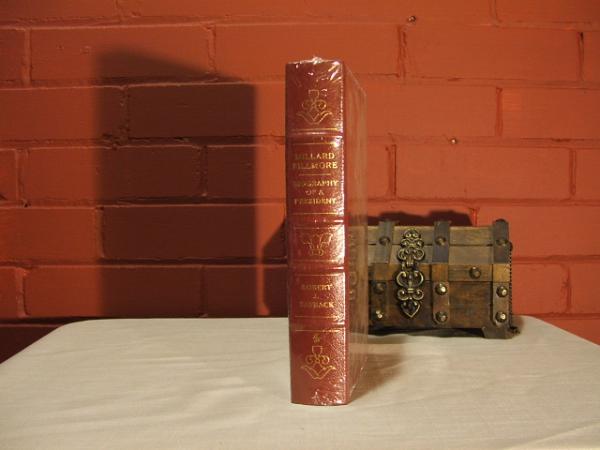 Easton Press books:
Millard Fillmore: Biography of a President - Robert J. Rayback - 1988


President Millard Fillmore biography
Fillmore, Millard (1800-74), American statesman and thirteenth President of the United States, born in Locke, N.Y. After working on his parent's farm and as an apprentice to a fuller and clothier, he studied law in Buffalo and was admitted to the bar in 1823. As a candidate of the anti-Masonic Party, Fillmore was elected to the N.Y. State legislature in 1828. Two years later he began the practice of law in Buffalo, where he subsequently became a founder and the first president of the Buffalo Historical Society.In 1832, as a follower of Henry Clay and as an opponent of the politics of President Andrew Jackson, Millard Fillmore was elected a member of the U.S. House of Representatives, where he served from 1833 to 1835 and again as a Whig, from 1837 to 1843. During his last term he was chairman of the Ways and Means Committee and was the author of the Tariff Act of 1842 which considerably lowered customs duties. In Congress he also opposed the admission of Texas to the Union as a slave State and advocated prohibition of interstate slave trade and proscription of slavery in the District of Columbia.In 1844 Millard Fillmore was the unsuccessful Whig candidate for governor of N.Y. State; three years later he was elected State comptroller. In 1848 the Whig Party nominated Fillmore as the running mate of Presidential candidate Zachary Taylor; the Whig ticket won and Fillmore was opposed to the strong antislavery measures of Northern Whig leaders in the Senate and to the stern measures projected by President Taylor to cope with secessionist threats and defiance of his authority emanating from Southern spokesman. Millard Fillmore thus found himself in an embarrassing position, from which he was extricated by the sudden death of President Taylor on July 9, 1850.

On the following day Millard Fillmore was sworn in as the thirteenth President of the United States; although his Cabinet was headed by Daniel Webster as secretary of state, Henry Clay, who was not in the cabinet, continued to exert great influence over President Fillmore. During Fillmore's administration the Second Fugitive Slave Law was enacted, alienating much Northern support from the Administration; the slave was prohibited in the District of Columbia; California was admitted as a Free State; and New Mexico was established as a Federal Territory. Two notable events in the realm of international relations took place in Fillmore's administration. One was the expression of United States policy by Secretary Webster in 1852, through a communication to the Austrian government known as the Hulsemann letter, affirming U.S. sympathy with democratic revolutions against foreign oppression. The other was the negotiation of a treaty with Japan in 1854, opening that country to foreign trade.Largely because of Northern antipathy Fillmore failed to win the Whig Party's nomination for President in 1852. Four years later he became the Presidential nominee of theKnow-Nothings of America Party and his candidacy was later supported by the Whigs. In the election however, Fillmore carried the electoral vote of only one State, Maryland. Thereafter he retired from public affairs.
Millard Fillmore: Biography of a President
For some reason hard to understand, the historically minded public has had to wait 85 years since the death of a president for an adequate biography. This gap has now been filled with Dr. Rayback's authoritative work on Millard Fillmore. It is no eulogy, rather it is honest and unprejudiced, describing and assaying his defects of judgment such as his leadership of two abused parties at the beginning and at the end of his political career, but asserting that all this even his approval of the fugitive slave law was far outweighed by his moral convictions and concrete actions against the institution of human slavery. To Western New Yorkers this book will of course have special appeal, but it is by no means unduly concerned with local history; it is the story of a life not only of dignity and integrity but of permanent achievement on both the local and national scene. The Buffalo Historical Society takes pride in this presentation of its first president.