Leather bound books on President Lyndon Johnson published by the Easton Press as special collector editions. These titles include biographies of Lyndon Johnson included in the Easton Press Library of Presidents.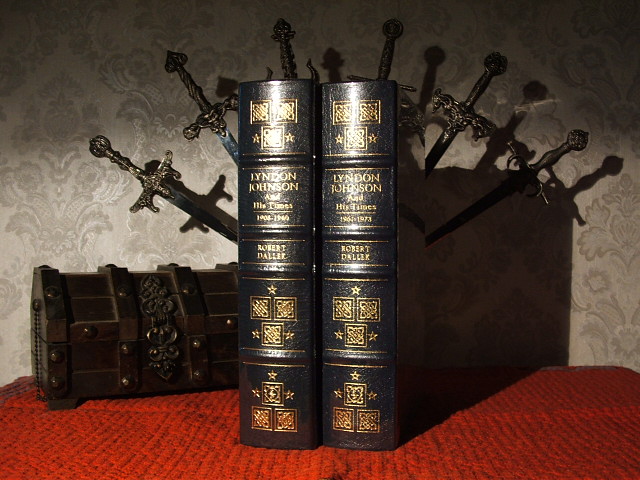 Easton Press books:
Lyndon B. Johnson and The American Dream -
Doris Kearns Goodwin
- 1987
Lyndon B. Johnson and his times - 2 volumes - Robert Dallek - 2001
Vol. 1 - Lone Star Rising 1908 - 1960
Vol. 2 - Flawed Giant 1961 - 1973
Lyndon B. Johnson and His Times
Like other great figures of 20th-century American politics, Lyndon Johnson defies easy understanding. An unrivaled master of vote swapping, back room deals, and election-day skulduggery, he was nevertheless an outspoken New Dealer with a genuine commitment to the poor and the underprivileged. With aides and colleagues he could be overbearing, crude, and vindictive, but at other times shy, sophisticated, and magnanimous. Perhaps columnist Russell Baker said it best: Johnson "was a character out of a Russian novel...a storm of warring human instincts: sinner and saint, buffoon and statesman, cynic and sentimentalist."
But Johnson was also a representative figure. His career speaks volumes about American politics, foreign policy, and business in the forty years after 1930. As Charles de Gaulle said when he came to JFK's funeral: Kennedy was America's mask, but this man Johnson is the country's real face.

In Lone Star Rising , Robert Dallek, winner of the prestigious Bancroft Prize for his study of Franklin D. Roosevelt, now turns to this fascinating "sinner and saint" to offer a brilliant, definitive portrait of a great American politician. Based on seven years of research in over 450 manuscript collections and oral histories, as well as numerous personal interviews, this first book in a two-volume biography follows Johnson's life from his childhood on the banks of the Pedernales to his election as vice-president under Kennedy. We see Johnson, the twenty-three-year-old aide to a pampered millionaire Representative, become a de facto Congressman, and at age twenty-eight the country's best state director of the National Youth Administration. We see Johnson, the "human dynamo," first in the House and then in the Senate, whirl his way through sixteen and eighteen-hour days, talking, urging, demanding, reaching for influence and power, in an uncommonly successful congressional career.
Dallek pays full due to Johnson's failings his obsession with being top dog, his willingness to cut corners, and worse, to get there but he also illuminates Johnson's sheer brilliance as a politician, the high regard in which key members of the New Deal, including FDR, held him, and his genuine concern for minorities and the downtrodden.
No president in American history is currently less admired than Lyndon Johnson. Bitter memories of Vietnam have sent Johnson's reputation into free fall, and recent biographies have painted him as a scoundrel who did more harm than good. Lone Star Rising attempts to strike a balance. It does not neglect the tawdry side of Johnson's political career, including much that is revealed for the first time. But it also reminds us that Lyndon Johnson was a man of exceptional vision, who from early in his career worked to bring the South into the mainstream of American economic and political life, to give the disadvantaged a decent chance, and to end racial segregation for the well-being of the nation.

Flawed Giant the monumental concluding volume to Robert Dallek's biography of Lyndon Baines Johnson provides the most through, engrossing account ever published of Johnson's years in the national spotlight. Drawing on hours of newly released White House tapes and dozens of interviews with people close to the President, Dallek reveals LBJ as a visionary leader who worked his will on Congress like no chief executive before or since, and also displays the depth of his private anguish as he became increasingly ensnared in Vietnam. Writing in a clear, thoughtful, and evenhanded style, Dallek reveals both the greatness and the tangled complexities of one of the most extravagant characters ever to ascend to the White House.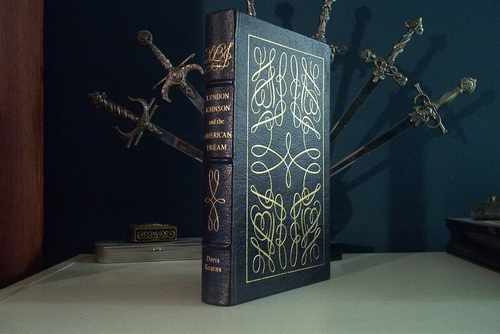 Lyndon B. Johnson and The American Dream
Doris Kearns Goodwin's classic life of Lyndon Johnson, who presided over the Great Society, the Vietnam War & other defining moments the tumultuous '60s, is a monument in political biography. From the moment the author, then a young woman from Harvard, 1st encountered President Johnson at a White House dance in the spring of 67, she became fascinated by the man: his character, his enormous energy & drive, & his manner of wielding these gifts in an endless pursuit of power. As a member of his White House staff, she soon became his personal confidante. In the years before his death he revealed himself to her as to no other.
Widely praised & enormously popular, Lyndon Johnson & the American Dream is a biography like few others. With insight & a richly engrossing style, the author renders LBJ in all his vibrant, conflicted humanity.