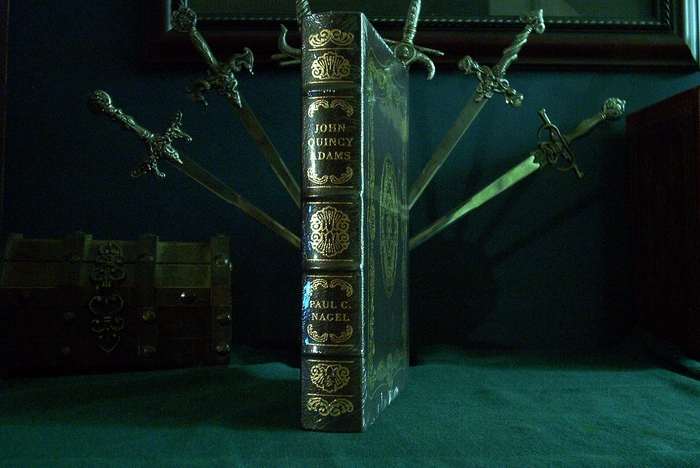 Easton Press books:
John Quincy Adams Biography - 2 volumes - Samuel Flagg Bemis - 1987
Vol. 1 - The foundation of American foreign policy
Vol. 2 - The Union
John Quincy Adams A public Life - Paul C. Nagel - 2000
President John Quincy Adams

Adams, John Quincy (1767-1848), sixth President of the United States, son of John Adams, second President of the United States, born in Braintree ( now Quincy ), Mass., and educated at Harvard College. In 1778 at the of eleven, John Quincy Adams was taken abroad by his father, when the latter visited Paris on a diplomatic mission; three years later, after brief periods of study in Paris, Amsterdam, and Leidan, the youth became private secretary to the American jurist Francis Dana, then United States minister to Russia. Dana was not received by the Russian government, and Adams rejoined his father in Paris, where he served in a secretarial capacity to the American commissioners who were negotiating of peace with Great Britain. At the conclusion of this mission, the elder Adams became the first United States minister to England, while John Quincy returned to America to enter Harvard. After his graduation, he studied law, and was admitted to the bar in 1790. His unusual opportunities and training were soon recognized. In 1794 President George Washington appointed him minister to Holland, and he subsequently filled diplomatic posts in Portugal and Prussia. After his return to the United States in 1801 he engaged more actively in politics; in 1802 he was elected to the Massachusetts legislature, and in 1803 to the United States Senate.