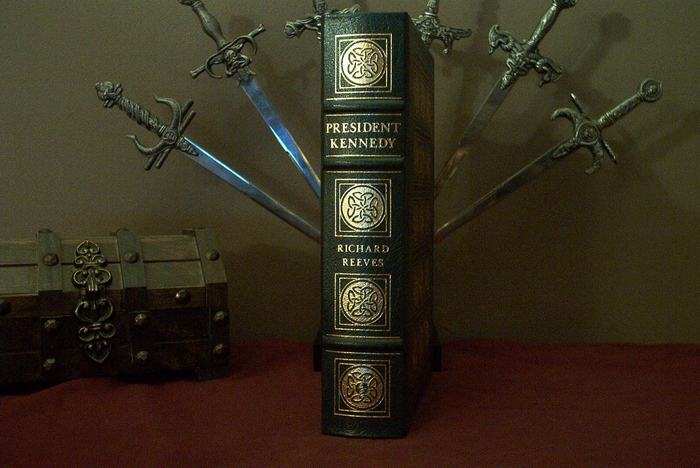 Easton Press books:
2 Volume Set - Herbert S. Parmet - 1986
Vol. 1 - JACK: The Struggles of John Kennedy
Vol. 2 - JFK: The Presidency of John Kennedy
The Best and the Brightest -
David Halberstam
- (
signed first edition
- 2005) - 1988
The Burden and the Glory - John Kennedy - 1988
A Nation of Immigrants - John Kennedy - 1991
Profiles in Courage - John Kennedy - 1992
A Thousand Days: John F. Kennedy in the White House - 2 volumes -
Arthur M. Schlesinger
- 1999
President Kennedy: Profile of Power - Richard Reeves - 2000
Remembering Jack: Intimate And Unseen Photographs of the Kennedys - Jacques Lowe - 2003
The Warren Commission Report - 2006
Franklin Library books:
A Thousand Days: John F. Kennedy in the White House - Arthur M. Schlesinger - 1979
Profiles in Courage -
Pulitzer prize classics
- John F. Kennedy - 1984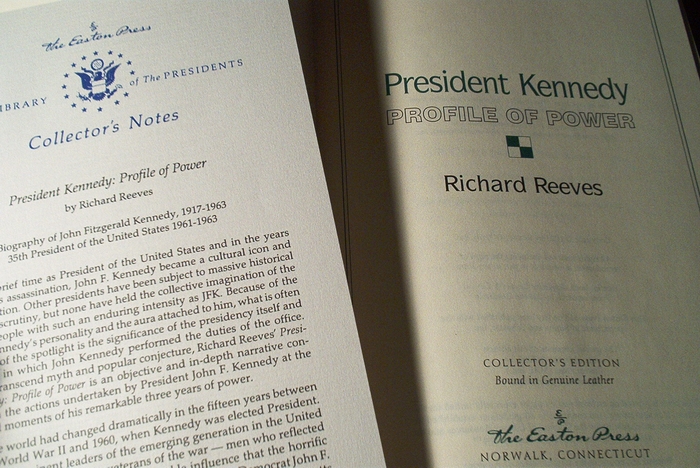 President John F. Kennedy

John Fitzgerald Kennedy (1917-1963), 35th President of the United States, the first Roman Catholic to be elected and the fourth to be assassinated in office. The second of nine children, he was born into a politically prominent Democratic family in Brookline, Massachusetts, attended private preparatory schools, studied briefly at the London School of Economics, and earned a B.S. degree in political science, from Harvard University. After graduation he expanded his senior honors thesis analyzing England's lack of preparedness for war into a book, Why England Slept (1940). Despite a football incurred back injury he joined the United States Navy in 1941 and was commissioned a lieutenant, junior grade. While on duty in the Pacific Ocean in August, 1943, he was credited with saving the lives of several of his crewmen after the patrol torpedo boat he commanded was split in two by a Japanese destroyer. For this feat of heroism, which aggravated the injury to his back, he was awarded the United States Navy and Marine Corps Medal. He was returned to the United States in December, 1943, and underwent spinal surgery before his discharge in 1945. He then became a news correspondent, covering for International News Service the United Nations founding conference in San Francisco and the Potsdam Conference.

John F. Kennedy, who became the focus of his family's political ambitions after his elder brother was killed in the war, was elected United States Senator from Massachusetts in 1952, defeating the incumbent Republican candidate, Henry Cabot Lodge, Jr. During his Senate career he was particularly active in the fields of labor and public welfare and in foreign relations. In 1953 he married Jacqueline Lee Bouvier, the daughter of a New York City financier. For several months in 1954 and 1955 he was absent from the Senate to undergo spinal operations, and during this time he worked on his book Profiles in Courage (1956), a series of biographical sketches of political figures. The book became a best seller and won a Pulitzer Prize.

John F. Kennedy was defeated in the balloting for the Vice Presidential nomination at the 1956 Democratic National Convention. In 1958 he was re-elected to the Senate by the largest majority ever won in any Massachusetts election.

In 1960 John F. Kennedy actively sought the nomination for President and was chosen on the first ballot at the Democratic National Convention in July. Senator Lyndon B. Johnson, his closest rival for the nomination, became the Vice Presidential candidate. The ensuing campaign between John F. Kennedy and Republican candidate Richard M. Nixon was notable for the amount of traveling done by both candidates, and for their televised debates which appeared to gain votes for John F. Kennedy. In the election Kennedy's slim majority of popular votes produced a sizable majority of electoral votes, and he became at forty-three the youngest man ever elected President of the United States.

John F. Kennedy's inaugural address on Jan. 20, 1961, called for a "grand and global alliance" against tyranny, poverty, disease, and war and he pledged his administration and the resources of the United States to the purpose. To implement this pledge, he created during his first year as President a Peace Corps program enlisting American volunteers to assist in improving conditions in underdeveloped countries. He also worked for increased foreign aid and instituted the Alliance for progress program linking United States economic aid to Latin America to programs of economic and social reform undertaken by Latin American governments. The first serious setback of his administration was the unsuccessful invasion of Cuba at the Bay of Pigs by United States trained Cuban exiles in April, 1961. President John F. Kennedy accepted blame for the disastrous expedition, which, planned during President Dwight Eisenhower's time in office, failed because of the hesitant support given by President Kennedy's administration

In April, 1962, President John F. Kennedy antagonized the business community by forcing the United States Steel Corporation to rescind price increases lest they set off a new inflationary spiral. The following October President Kennedy scored one of his greatest triumphs when his blockage of and threatened military invasion of Cuba caused the Soviet Union to dismantle long-range-missile bases it had installed in Cuba and to remove the missiles. In 1963 President Kennedy's major legislative objective was a tax cut to stimulate the economy of the United States. Civil-rights legislation also assumed high priority as racial tensions rose in the late spring. These and other legislative proposals by Kennedy, including his foreign-aid program, met strong resistance and were soon deadlocked in Congress. However, his tour of Europe in the summer was a personal success, serving to demonstrate his exceptional popularity with the people of many countries. Marking a significant step in President John F. Kennedy's long campaign to bring about an East-West nuclear test-ban treaty, the treaty was signed in August by the United States, Soviet Union, and Great Britain, and subsequently many other nations.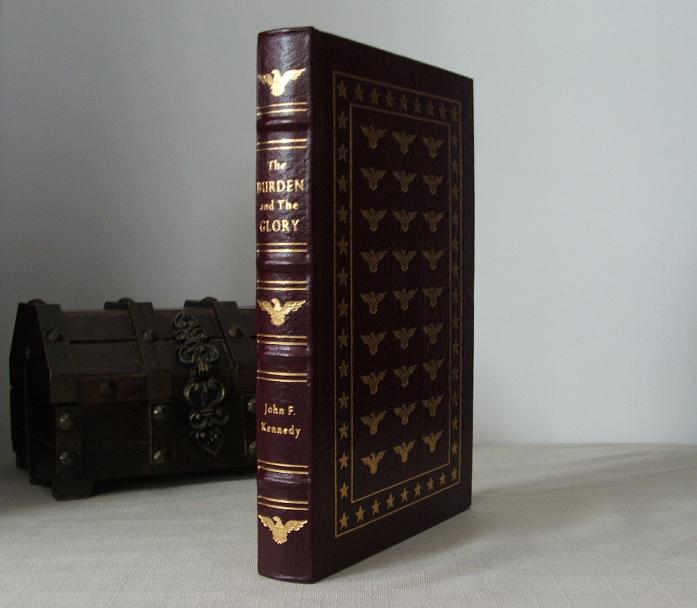 In November, 1963, President John F. Kennedy scheduled a two day political tour in Texas. On November 22, while riding in a motorcade through Dallas, he was fatally shot in the back of the head. The assassin, Communist sympathizer Lee Harvey Oswald, was murdered by Jack Ruby before he could stand trial. Vice President Johnson assumed the Presidency, and succeeded in getting much of President Kennedy's program through Congress during the remaining year of the term.

To this day there remains much debate about a possible conspiracy surrounding the assassination of President John F. Kennedy. The official stand of the United States government remains that Lee Harvey Oswald acted alone in the assassination