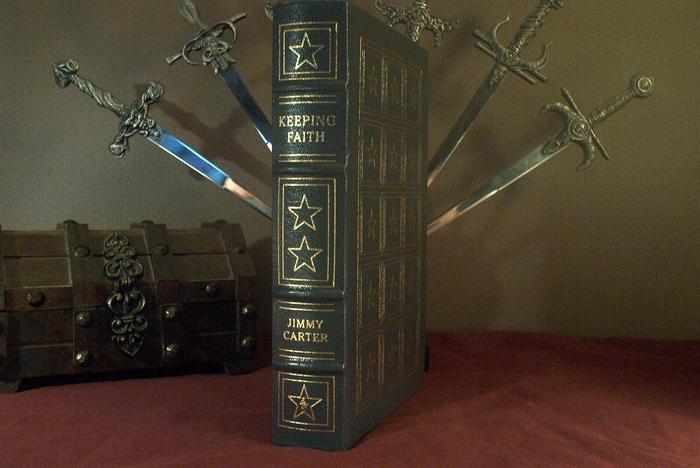 Easton Press books:
Keeping Faith: Memoirs of a President - signed edition - 1982
Turning Point : A Candidate, a State, and a Nation Come of Age - signed first edition - 1993
Seven Volume Set by Jimmy Carter - 1995
Vol. 1 - Always a Reckoning - Signed by Jimmy Carter
Vol. 2 - Turning Point - (2 volumes - not signed like the 1992 first edition)
Vol. 3 - Everything to Gain
Vol. 4 - A Government as Good as Its People
Vol. 5 - Why Not the Best?
Vol. 6 - An Outdoor Journal
Vol. 7 - The Blood of Abraham
Two Volume set by Jimmy Carter - 2000
Vol. 1 - Living Faith - Signed by Jimmy Carter
Vol. 2 - Sources of Strength
An Hour Before Daylight: Memoirs of a Rural Boyhood -
signed first edition
- 2001
Christmas In Plains - signed edition - 2002
Sharing Good Times - signed edition - 2004
The Hornet's Nest - signed edition - 2004
Our Endangered Values: America's Moral Crisis - signed edition - 2005
Palestine: Peace Not Apartheid - signed edition - 2006
Beyond the White House: Waging Peace, Fighting Disease, Building Hope - signed edition - 2007
A Remarkable Mother - signed limited edition - 2009
White House Diary - signed edition - 2010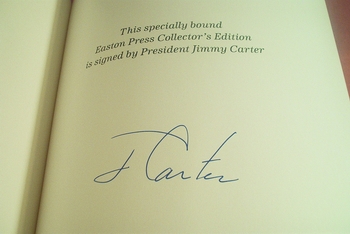 Keeping Faith: Memoirs of a President
In Keeping Faith, originally published in 1982, President Carter provides a candid account of his time in the Oval Office, detailing the hostage crisis in Iran, his triumph at the Camp David Middle East peace summit, his relationships with world leaders, and even glimpses into his private world.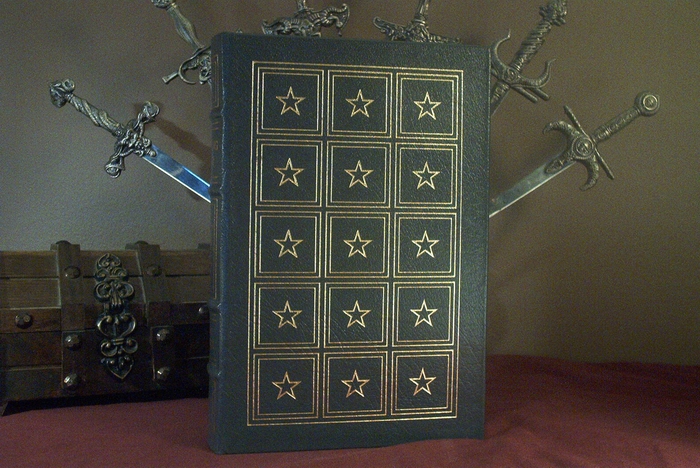 Turning Point: A Candidate, a State, and a Nation Come of Age
The former president's personal tale of political intrigue and social conflict during his first campaign for public office. Iluminates the origins of his commitment to human rights and bears further witness to the accomplishments of an extraordinary man.


Always a Reckoning and Other Poems
The first collection of poetry by former President Jimmy Carter, who shares here his private memories about his childhood, his family and political life, with illustrations by his granddaughter. Always a Reckoning sets a precedent since no other president has published a book of poetry.


Everything to Gain: Making the Most of the Rest of Your Life
For Jimmy and Rosalynn Carter, the transition from the White House to Plains, Georgia, was painful. Everything To Gain is their warm and unpretentious account of their successful adjustment to a new life, full of encouragement and insight for any couple wanting to renew their commitment to each other and to life.


A Government as Good as Its People
A Government as Good as Its People, first published in 1977, presents sixty-two of the most notable public statements made by President Carter on his way to the White House. Formal speeches, news conferences, informal remarks made at gatherings, interviews, and excerpts from debates give a vivid glimpse into the issues of the time and the deeply held convictions of Jimmy Carter.


Why Not the Best?
Why Not the Best?, originally published in 1975, is President Carter's presidential campaign autobiography, the book that introduced the world to Georgia governor Jimmy Carter and asked the American people to demand the best and highest standards of excellence from our government.


An Outdoor Journal: Adventures and Reflections
An Outdoor Journal , first published in 1988, is President Carter's memoir of hunting and fishing and the meaning of nature, revealing much about a man who embodies


Living Faith
For almost three decades, President Carter has regularly spent part of each Sunday reading from scripture and sharing his personal faith with neighbors, friends, and visitors at his Baptist church in Plains, Georgia. In "Living Faith," he draws on this experience, exploring the values closest to his heart and the personal beliefs that have nurtured and sustained him.
For President Carter, faith finds its deepest expression in a life of compassion, reconciliation, and service to others. "Living Faith" is filled with stories of people whose lives have touched his some from the world stage, more from modest walks of life. We see how President Carter learned about other faiths from Prime Minister Menachim Begin and President Anwar Sadat; learned a lesson in forgiveness from a clash with commentator George Will; how he was inspired by the simple theology of preacher Ely Cruz, "Love God and the person in front of you"; and how the cheerful strength of family friend Annie Mae Rhodes taught him the meaning of "patient faith."
Rooted in scripture and infused with a vision of how a dynamic faith can enrich our public and private lives, this is the most personal book yet by one of our most admired Americans a warmly inspirational volume to give and to share.


Sources of Strength: Meditations on Scripture for a Living Faith
For Jimmy Carter, Holy Scripture has been a constant companion, a source of inspiration and strength in both good times and bad. A lifetime of devoted Bible reading has taught him that the truths of Scripture have the power to enrich and transform our daily lives in unexpected ways. Sources of Strength is his invitation to share in the spiritual bounty of Scripture and the joyous, more fulfilling life that a living faith makes possible.


An Hour Before Daylight: Memories of a Rural Boyhood
In an American story of enduring importance, Jimmy Carter re-creates his Depression-era boyhood on a Georgia farm, before the civil rights movement that changed the country. The bestselling author of Living Faith and Sources of Strength writes about the powerful rhythms of countryside and community in a a sharecropping economy. He renders an unforgettable portrait of his father, a brilliant farmer and strict segregationist who treated black workers with his own brand of separate respect and fairness, and his strong-willed and well-read mother, a nurse who cared for all in need regardless of their position in the community.Caner describes the other people who shaped his early life, only two of them white, the boyhood friends who could not attend the same school, and the eminent black bishop who refused to come to the Carters' back door but who would stand in the front yard discussing crops and politics with Jimmy's father.Carter evoke a time when the cycles of life were predictable and simple while the rules were heartbreaking and complex. An Hour Before Daylight is a sensitive portrait of an era that shaped the nation.


Christmas in Plains: Memories
Jimmy Carter remembers Christmas in Plains, Georgia, the source of spiritual strength, respite, friendship, and vacation fun in this charming portrait.

In a beautifully rendered portrait, Jimmy Carter remembers the Christmas days of his Plains boyhood the simplicity of family and community gift-giving, his father's eggnog, the children's house decorations, the school Nativity pageant, the fireworks, Luke's story of the birth of Christ, and the poignancy of his black neighbors' poverty.

Later, away at Annapolis, he always went home to Plains, and during his Navy years, when he and Rosalynn were raising their young family, they spent their Christmases together recreating for their children the holiday festivities of their youth.

Since the Carters returned home to Plains for good, they have always been there on Christmas Day, with only one exception in forty-eight years: In 1980, with Americans held hostage in Iran, Jimmy, Rosalynn, and Amy went by themselves to Camp David, where they felt lonely. Amy suggested that they invite the White House staff and their families to join them and to celebrate.

Nowadays the Carters' large family is still together at Christmastime, offering each other the gifts and the lifelong rituals that mark this day for them.

With the novelist's eye that enchanted readers of his memoir An Hour Before Daylight, Jimmy Carter has written another American classic, in the tradition of Truman Capote's A Christmas Memory and Dylan Thomas's A Child's Christmas in Wales.


Sharing Good Times
In this wonderfully evocative volume, Jimmy Carter writes about the things that matter most, the simple relaxed days and nights that he has enjoyed with family and friends through the years and across the generations.

Here are lively, witty accounts of exploring the outdoors with his father and with black playmates; making furniture; painting; pursuing new adventures and going places with children, grandchildren, and friends; and sharing life with his wife, Rosalynn.

Sharing Good Times is an inspirational guide for anyone desiring to stretch mind and heart and to combine work and pleasure.


Our Endangered Values: America's Moral Crisis
President Jimmy Carter offers a passionate defense of separation of church and state. He warns that fundamentalists are deliberately blurring the lines between politics and religion.

As a believing Christian, Carter takes on issues that are under fierce debate women's rights, terrorism, homosexuality, civil liberties, abortion, the death penalty, science and religion, environmental degradation, nuclear arsenals, preemptive war, and America's global image.


Palestine: Peace Not Apartheid
President Carter, who was able to negotiate peace between Israel and Egypt, has remained deeply involved in Middle East affairs since leaving the White House. He has stayed in touch with the major players from all sides in the conflict and has made numerous trips to the Holy Land, most recently as an observer in the Palestinian elections of 2005 and 2006.

In this book, President Carter shares his intimate knowledge of the history of the Middle East and his personal experiences with the principal actors, and he addresses sensitive political issues many American officials avoid. Pulling no punches, Carter prescribes steps that must be taken for the two states to share the Holy Land without a system of apartheid or the constant fear of terrorism.

The general parameters of a long-term, two-state agreement are well known, the president writes. There will be no substantive and permanent peace for any peoples in this troubled region as long as Israel is violating key UN resolutions, official American policy, and the international "road map" for peace by occupying Arab lands and oppressing the Palestinians. Except for mutually agreeable negotiated modifications, Israel's official pre-1967 borders must be honored. As were all previous administrations since the founding of Israel, US government leaders must be in the forefront of achieving this long-delayed goal of a just agreement that both sides can honor.

Palestine Peace Not Apartheid is a challenging, provocative, and courageous book.


Beyond the White House: waging peace, fighting disease, building hope
Nearly 30 years after he left office, Jimmy Carter has continued to experience arguably the fullest and most effective post-presidential career in history. In this memoir of his post-White House years, Carter reveals the challenges, rewards and excitements of refusing to ease himself into comfortable retirement.


A Remarkable Mother
A Remarkable Mother" is President Carter's loving, admiring, wry homage to Miss Lillian Carter, who championed the underdog always, even when her son was president. A registered nurse, pecan grower, university housemother, Peace Corps volunteer, public speaker, and renowned raconteur, Miss Lillian ignored the mores and prejudices of the racially segregated South of the Great Depression years. She was an avid supporter of the Brooklyn Dodgers (because she happened to attend the first major league baseball game in which Jackie Robinson, from Cairo, Georgia, played), was a favored guest on television talk shows (usually able to "steal the microphone" from hosts such as Johnny Carson and Walter Cronkite), and an important role model for the nation. Jimmy Carter's mother emerges from this portrait as redoubtable, generous, and forward-looking. He ascribes to her the inspiration for his own life's work of commitment and faith.


White House Diary
Each day during his presidency, Jimmy Carter made several entries in a private diary, recording his thoughts, impressions, delights, and frustrations. He offered unvarnished assessments of cabinet members, congressmen, and foreign leaders; he narrated the progress of secret negotiations, such as those that led to the Camp David Accords. When his four-year term came to an end in early 1981, the diary amounted to more than 5,000 pages. But this extraordinary document has never been made public until now. By carefully selecting the most illuminating and relevant entries, Carter has provided us with an astonishingly intimate view of his presidency. Day by day, we see his forceful advocacy for nuclear containment, sustainable energy, human rights, and peace in the Middle East.

We witness his interactions with such complex personalities as Ted Kennedy, Henry Kissinger, Joe Biden, Anwar Sadat, and Menachem Begin. We get the inside story of his so-called "malaise speech", his bruising battle for the 1980 Democratic nomination, and the Iranian hostage crisis. Remarkably, we also get Carter's retrospective comments on these topics and more: 30 years after the fact, he has annotated the diary with his candid reflections on the people and events that shaped his presidency, and on the many lessons learned. Carter is now widely seen as one of the truly wise men of our time. Offering an unprecedented look at both the man and his tenure, this fascinating book will stand as a unique contribution to the history of the American presidency.