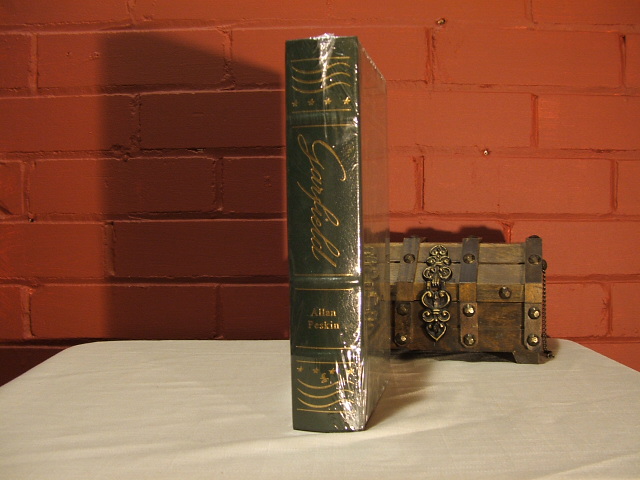 Easton Press books:
Garfield: A Biography - Allan Peskin - 1987



President James Garfield

James Abram Garfield (1831-1881), 20th President of the United States, born in Orange, Cuyahoga County, Ohio. He worked on his mother's frontier farm, attended to school in the winter months, and was for a time a steersman and driver on the Ohio Canal. Later, teaching and other part time employment enabled him to acquire the means of securing a higher education. After graduation form Williams College with honors in 1856 he taught at Hiram Institute in Ohio, and served as president of that institution from 1857 to 1859; in the latter year he was admitted to the bar and was elected to the Ohio State Senate.

On the outbreak of the Civil War James Garfield was commissioned a lieutenant colonel in the Union Army. A successful campaign in Kentucky led to his promotion to the rank of brigadier general in 1862; and further conspicuous services, including his work as chief of staff to General William Starke Rosecrans, led to his being made a major general in 1863.

While in military service he had been elected a United States Congressman in 1862. On President Abraham Lincoln's advice James Garfield resigned his military commission in December, 1863, and took his seat in the House of Representatives, where he subsequently became an authority on constitutional rights and on education, tariff, and financial questions. He was re-elected eight times, and was a Republican leader of the House from 1876 to 1880. In the latter year he was selected by the Ohio State legislature to fill a vacancy in the United States Senate.

In June, 1880, James Garfield attended the Republican National Convention and supported the candidacy for the Presidential nomination of the statesman John Sherman. However, after thirty-five ballots had failed to break the deadlock between the chief contenders, President Ulysses S. Grant, who was seeking a third term, James G. Blaine. James Garfield was nominated on the thirty-sixth ballot as a compromise candidate. In the ensuing campaign he broke a long standing precedent by making speeches in his own behalf. Elected in November, he was sworn in on March 4, 1881. On July 2, while in the railroad station in Washington, D.C., he was shot by Charles Jules Guiteau, a disgruntled office seeker. After several weeks of painful illness, blood poisoning set in, and he died on September 19. His collected works were published in 1882-1883.