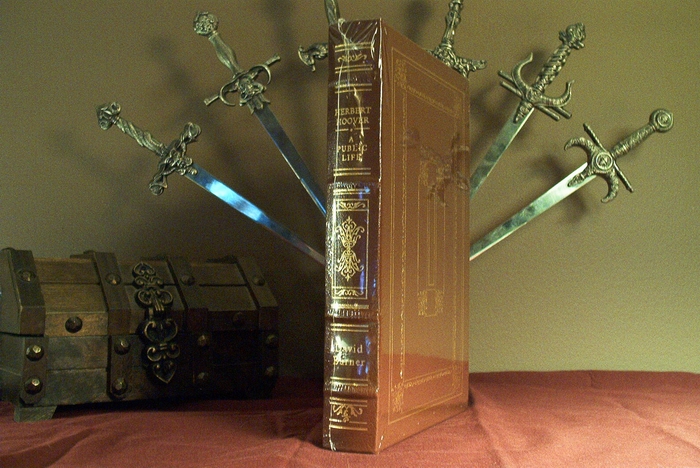 Easton Press books:
Herbert Hoover: a biography - Eugene Lyons - 1989
Herbert Hoover: A Public Life - David Burner - 1996



President Herbert Hoover biography
Herbert Clark Hoover, (1874-1964), Thirty first President of the United States, born in West Branch, Iowa, and educated at Stanford University. In 1897 he went to Australia as a mining engineer for an English syndicate, and in 1899 the Chinese Government appointed him director of general mines. His government work was terminated by the Boxer uprising and he returned to private practice, engaging in mining operations in many parts of the world. Herbert Hoover became associated with numerous successful mining companies and was managing director of several of them.

At the outbreak of World War One Herbert Hoover was living in Europe; he was appointed to organize and direct the American relief committee which aided the repatriation of more than 200,000 American tourists left in Europe as a result of the breakdown in transportation caused by the war. Soon afterward he was made head of Belgian Relief, and was entrusted with the expenditure of nearly a billion and a half dollars to purchase and supply food and clothing to the people of that war torn nation. Upon the entry of the United States into the war, President Woodrow Wilson recalled Herbert Hoover and appointed him Federal Food Administrator. After the war he was made director general of the American Relief Administration, providing food and necessities to the people of Europe impoverished by the war.





In 1921 Herbert Hoover was appointed secretary of commerce by President Warren G. Harding, and served through the administration of President Calvin Coolidge; he resigned in 1928 when he was nominated by the Republican Party as candidate for the Presidency. The campaign was bitter, not so much because of Republican action, but because of internal dissension in the Democratic Party over nomination of Alfred E. Smith. Herbert Hoover won by a popular vote of twenty one to fifteen million, and by an electoral vote of 444 to 87. At President Herbert Hoover's inauguration on March 4, 1929, he took an affirmation of office rather than the customary oath, which precepts of his Quaker religion forbade.

The first few months of the administration of President Herbert Hover were marked by the reopening of international negotiations for the limitation of naval armaments, and the appointment of a National Law Enforcement Commission to study the effects of national prohibition, and the establishment of a Federal Farm Board. President Hoover's administration was principally marked by the stock market crash of 1929, and the ensuing economic depression. Among his efforts to combat the depression were the establishment of the Reconstruction Finance Corporation and a moratorium on the repayment of war debts. The continuance of the depression was chiefly responsible for President Herbert Hoover's defeat by President Franklin Roosevelt in his campaign for re-election in 1932.

After his defeat President Herbert Hoover retired to private life for the duration of the Roosevelt administration, He emerged from retirement in 1946 at the request of President Harry S. Truman to undertake a study of world food supplies to enable the United States government to administer relief to 38 war damaged countries. In 1946-1947 he headed a U.S. government commission to study the entire structure of the Federal government and to submit recommendations for its reorganization in the interests of economy and efficiency. After work of more than a year the Hoover Commission submitted a series of reports over the period of November, 1948, to March, 1949, containing a comprehensive plan for government reorganization. Among the recommendations of the report were consolidation of many departments and agencies, establishment of more cabinet posts to relieve the President of unnecessary detail work and supervision of minor agencies, and a plan to increase the attractiveness of government careers to capable men.

From 1953 to 1955, during the administration of President Dwight D. Eisenhower, Herbert Hoover again served as chairman of a commission to study United States government operations. This second Hoover Commission was given broader scope than the first. Its recommendations, contained in a series of reports issued during 1955, included proposals for a reorganization of the Central Intelligence Agency, the establishment of a civilian Defense Supply and Service Administration, the cessation of government competition with private enterprise, and curtailment of United States foreign aid and domestic loan programs.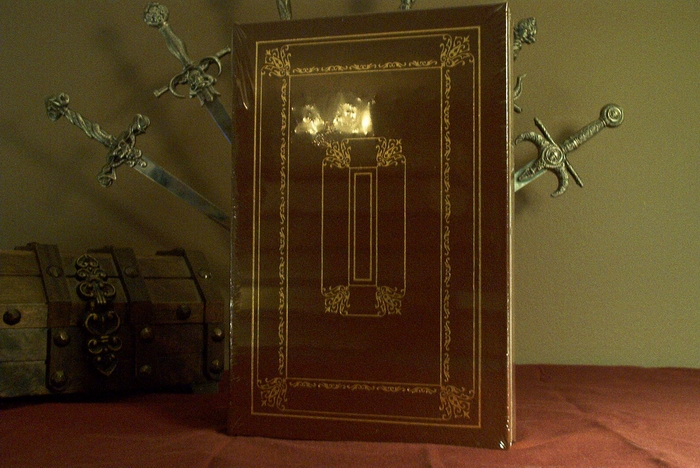 President Herbert Hoover wrote the following books:

American Individualism - 1922
The Challenge to Liberty - 1934
Addresses upon the American Road- 1938
The problems of lasting Peace - 1942
Memoirs in 3 books - 1951/1952
The Ordeal of Woodrow Wilson - 1958
An American Epic in 4 books - 1959 to 1964
Herbert Hoover: A Public Life
He was one of the extraordinary Americans of this century. Inexhaustibly energetic, a progressive and a humanitarian, he would build a society on the virtues of hard, intelligent work, voluntary cooperation, common sense decency, and good neighborliness. Yet for three decades after he left the presidency Herbert Hoover met with opprobrium and derision, and now his name is almost invariably associated with economic depression and inept leadership. But, as historian David Burner argues in this compellingly readable biography, the conventional view of out thirty-first President is distorted and largely unjust.

Hoover's early years were the classic American tradition. Born in Iowa, orphaned by the age of nine, raised by relatives in Oregon, he was in the first graduating class of Stanford University. He spent the next twenty years as a mining engineer and entrepreneur in Australia, China, and England, and quickly became a millionaire. His organizing and supervising of the massive Belgian relief operations of World War I made him an international figure, and he came home to the United States to oversee the wartime production and distribution of food. After the war he led a European relief program that saved millions of lives.

Mr. Burner focuses on Hoover's eight years as Secretary of Commerce during the Harding and Coolidge administrations, when he assiduously promoted American economic development. With his enormous prestige and genuine idealism, he campaigned for a more equal distribution of wealth, conservation of natural resources, the eight-hour day, the elimination of poverty, and other social reforms. When he became President in 1929 the first professional engineer to reach the White House Hoover's standing was at its zenith, and he urged upon Congress a program that was the most socially adventurous proposed in America before Franklin Roosevelt's Hundred Days in 1933.

But, as Burner makes clear, there were fatal flaws in Hoover that rendered him unable to deal with the crises following the Wall Street crash of 1929. He shows Hoover as a lonely individualist traveling faithfully along on his own uncommunicative course, who understood the importance of instilling public confidence but could not bring himself to employ public relations techniques to manufacture it. He shows Hoover as a private person who shrank from rough political contacts, who believed he could transcend congressional factions and interests and make decisions like a technician. he shows a Hoover who desired progress but would fail to take into account the subtle components of the whole community. Finally, he shows Hoover as a man who foresaw the country's economic collapse, but whose rational and impersonal approach to social problems was bound to fail. As a result, this exceptional man's reputation essentially rests on the last three years of his beleaguered presidency. Burner's biography should go a long way toward restoring Herbert Hoover to a fairer place in history.