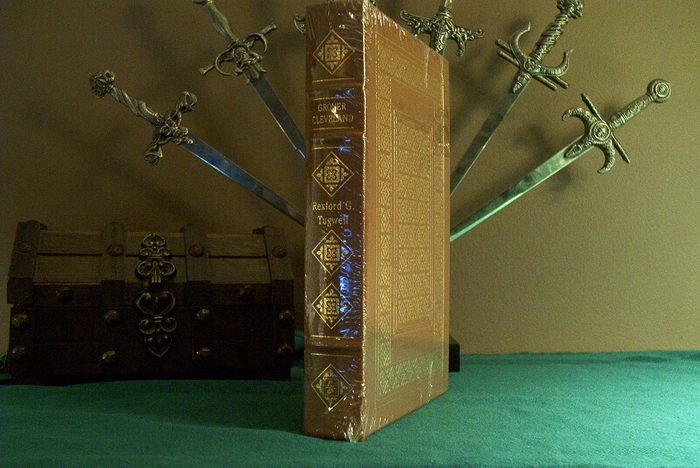 Easton Press books:
Grover Cleveland: a study in courage - 2 volumes - Allan Nevins - 1988
Grover Cleveland a Biography - Rexford G. Tugwell - 2000



President Grover Cleveland Biography

Grover Stephen Cleveland was an American statesman, and twenty-second and twenty-forth President of the United States. He was born at Caldwell, New Jersey, the son of a Presbyterian minister. In 1859 he was admitted to the bar and began to practice law in Buffalo, New York. After serving as mayor of Buffalo, he was elected governor of New York in 1882 by a majority of more than 190,000 votes. In 1884 he was nominated by the Democrats for the presidency of the United States. In the exciting campaign which followed, Grover Cleveland received 219 electoral votes as well as a plurality in the popular vote, and took office as President in 1885. In his annual message to Congress in December 1887, regarding the reduction of the surplus revenue in the national treasury, he advocated a careful readjustment of the tariff on certain manufactured articles of import, and the admission duty-free of some raw materials. The tariff issue dominated the 1888 election, in which Democrats unanimously nominated Grover Cleveland for re-election to the Presidency. Though he had a plurality of the popular vote, Grover Cleveland was defeated by the Republican candidate, Benjamin Harrison. After spending 4 years in private law practice, Grover Cleveland was re-nominated for President by his the Democratic Party, and re-elected to the office of the President in 1892. His second term was signalized by his zeal for currency reform, for the repeal of the Silver Act, and against the Republican high tariff policies, and by a sudden intervention in the dispute between Britain and Venezuela which for a time threatened to cause war between the United States and Britain. In 1896 the Democrats repudiated Grover Cleveland's administration and nominated William Jennings Bryan, who was defeated by Republican William McKinley.