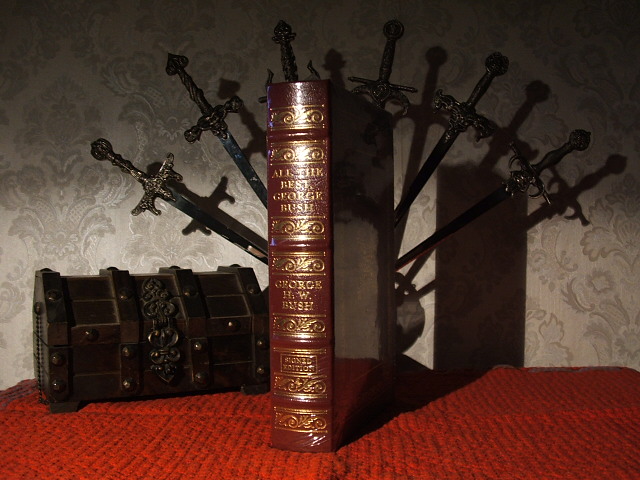 Easton Press George H. W. Bush books
A Memoir: Barbara Bush - signed first edition - 1994

All The Best - Autobiography of George Bush:
(signed first edition in blue leather)
(signed for library of presidents in red leather) - George Bush - 1999

George Bush The life of a Lone Star Yankee - Herbert S. Parmet - 2000
Reflections: Life After The White House - signed first edition - Barbara Bush - 2003
Speaking of Freedom - Signed collector edition - George Bush - 2009


All The Best, George Bush - My Life in Letters and Other Writings
One of the most private presidents since "Silent Cal" Coolidge shares his life in correspondence, diary entries, memos, and other writings, from his letter home as an eighteen-year-old Navy pilot during World War II to one written to his children on the eve of Desert Storm.


George Bush - The Life of a Lone Star Yankee
The only comprehensive biography of the former president, from his aristocratic upbringing and heroic World War II service to his ascendancy to the White House, encompasses insights culled from exclusive access to personal papers, correspondence, and diary entries.



Speaking of Freedom - The Collected Speeches
Through the lens of more than forty speeches from his presidency, George H. W. Bush takes a special look back on the momentous global events of 1989-1992 the fall of the Berlin Wall, the collapse of the Soviet Union, and the liberation of Kuwait, to name a few and reminisces about what it was like to be president through such unprecedented times. Choosing from among the hundreds of speeches he gave while in office, former president Bush selects those that meant the most to him and introduces each one with candid comments recalling the circumstances and events leading up to it.

"Although now in hindsight it seems that the end results were almost preordained, at the time no one knew what would happen next. Nothing was 'inevitable' at all. We learned quickly that words mattered," he writes in the opening pages of Speaking of Freedom. Selections throughout the book bring back the fascinating times of Lech Walesa, Mikhail Gorbachev, Václav Havel, and even Saddam Hussein when we watched as the idea of freedom seemed to spread all over the world. It was a stunning time in world history, and in these speeches the forty-first president observes it from his perspective as commander in chief, diplomat, politician, navy pilot, and grandfather.

While many of the speeches deal with foreign affairs, others cover freedom's spread within the United States, including the signing of the landmark Americans with Disabilities Act and the historic Clean Air Act of 1990. President Bush's voice comes across perhaps most clearly when he is calling young people to lead a life of meaning and adventure that results only from serving others.

Showcasing President Bush's usual charm, self-deprecating wit, and sharp perception, these speeches mark the moments large and small that defined his presidency. Through his words that motivated people all around the world to become involved in ideas that were bigger than themselves, George H. W. Bush shows us what it means to be "speaking of freedom."