Leather bound books on President Bill Clinton published by the Easton Press as special collector editions. These titles include biographies of Bill Clinton included in the Easton Press Library of Presidents.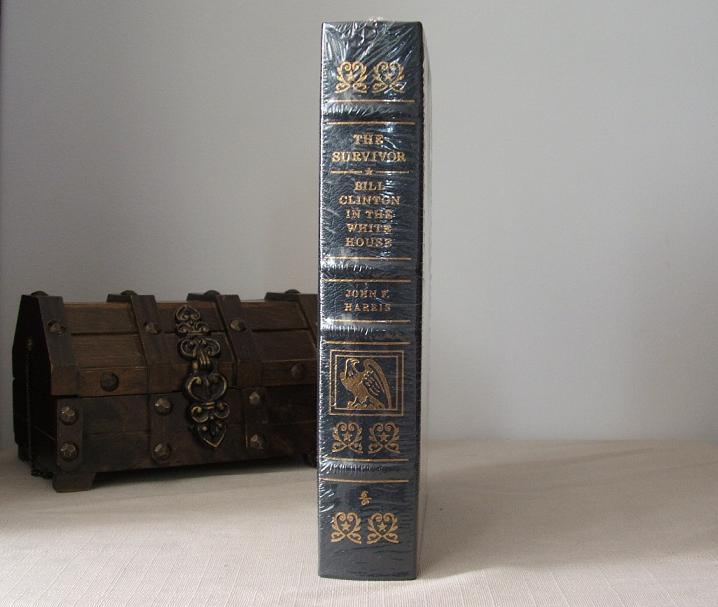 Easton Press books:
The Survivor: Bill Clinton in the White House - John F. Harris - 2008
The Clinton Tapes - signed first edition by Taylor Branch - 2009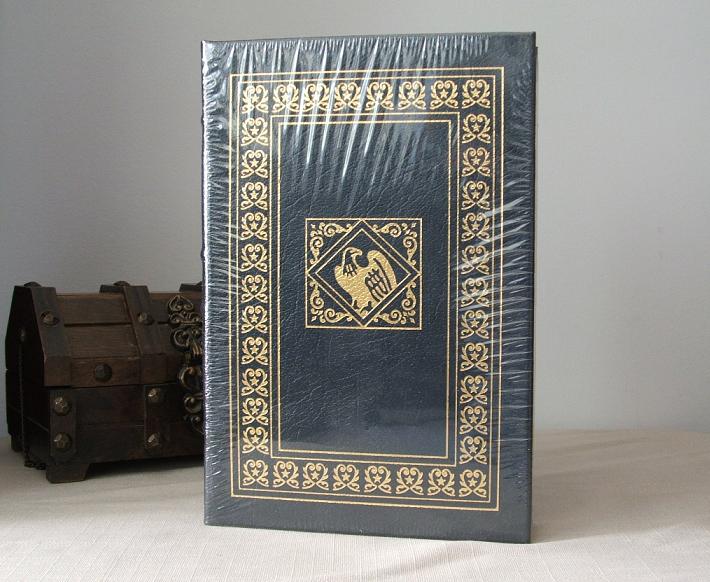 The Survivor: Bill Clinton in the White House
The definitive account of one of the most accomplished, controversial, and polarizing figures in American history.

Bill Clinton is the most arresting leader of his generation. He transformed American politics, and his eight years as president spawned arguments that continue to resonate. For all that has been written about this singular personality including Clinton's own massive autobiography there has been no comprehensive, nonpartisan overview of the Clinton presidency.

Few writers are as qualified and equipped to tackle this vast subject as the award-winning veteran Washington Post correspondent John F. Harris, who covered Clinton for six of his eight years in office as long as any reporter for a major newspaper. In The Survivor, Harris frames the historical debate about President William Jefferson Clinton, by revealing the inner workings of the Clinton White House and providing the first objective analysis of Clinton's leadership and its consequences.

Harris shows Clinton entering the Oval Office in 1993 primed to make history. But with the Cold War recently concluded and the country coming off a nearly uninterrupted generation of Republican presidents, the new president's entry into this maelstrom of events was tumultuous. His troubles were exacerbated by the habits, personal contacts, and the management style, he had developed in his years as governor of Arkansas. Clinton's enthusiasm and temper were legendary, and he and Hillary Rodham Clinton whose ambitions and ordeals also fill these pages arrived filled with mistrust about many of the characters who greeted them in the "permanent Washington" that often holds the reins in the nation's capital.

Showing surprising doggedness and a deep-set desire to govern from the middle, Clinton repeatedly rose to the challenges; eventually winning over (or running over) political adversaries on both sides of the aisle sometimes facing as much skepticism from fellow Democrats as from his Republican foes. But as Harris shows in his accounts of political debacles such as the attempted overhaul of health care, Clinton's frustrations in the war against terrorism, and the numerous personal controversies that time and again threatened to consume his presidency, Bill Clinton could never manage to outrun his tendency to favor conciliation over clarity, or his own destructive appetites.The Survivor is the best kind of history, a book filled with major revelations the tense dynamic of the Clinton inner circle and Clinton's professional symbiosis with Al Gore to the imprint of Clinton's immense personality on domestic and foreign affairs as well as the minor details that leaven all great political narratives. This long-awaited synthesis of the dominant themes, events, and personalities of the Clinton years will stand as the authoritative and lasting work on the Clinton Presidency.


The Clinton Tapes: Wrestling History With the President
Taylor Branch's groundbreaking book about the modern presidency, The Clinton Tapes, invites readers into private dialogue with a gifted, tormented, resilient president. Here is what President Clinton thought and felt but could not say in public.

This book rests upon a secret project, initiated by Clinton, to preserve for future historians an unfiltered record of presidential experience. During his eight years in office, between 1993 and 2001, Clinton answered questions and told stories in the White House, usually late at night. His friend Pulitzer Prize-winning author Taylor Branch recorded seventy-nine of these dialogues to compile a trove of raw information about a presidency as it happened. Clinton drew upon the diary transcripts for his memoir in 2004.

Branch recorded his own detailed recollections immediately after each session, covering not only the subjects discussed but also the look and feel of each evening with the president. The text engages Clinton from many angles. Readers hear candid stories, feel buffeting pressures, and weigh vivid descriptions of the White House settings.

Branch's firsthand narrative is confessional, unsparing, and personal. The author admits straying at times from his primary role to collect raw material for future historians because his discussions with Clinton were unpredictable and intense. What should an objective prompter say when the President of the United States seeks advice, argues facts, or lodges complaints against the press? The dynamic relationship that emerges from these interviews is both affectionate and charged, with flashes of anger and humor. President Clinton drives the history, but this story is also about friends.

The Clinton Tapes highlights major events of Clinton's two terms, including wars in Bosnia and Kosovo, the failure of health care reform, peace initiatives on three continents, the anti-deficit crusade, and titanic political struggles from Whitewater to American history's second presidential impeachment trial. Along the way, Clinton delivers colorful portraits of countless political figures and world leaders from Nelson Mandela to Pope John Paul II.

These unprecedented White House dialogues will become a staple of presidential scholarship. Branch's masterly account opens a new window on a controversial era and Bill Clinton's eventual place among our chief executives.