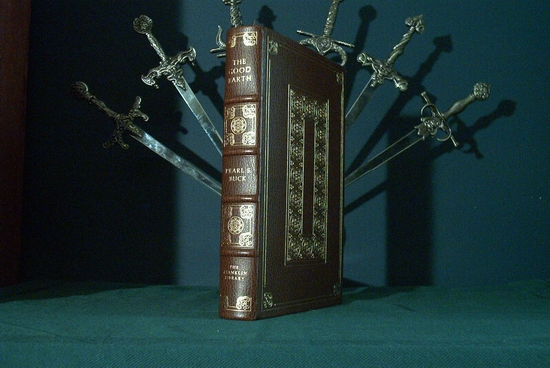 Easton Press Pearl S. Buck books:
All Men Are Brothers - Library of Famous Editions - 1976
The Good Earth - 2007

Franklin Library Pearl S. Buck books:
The Good Earth - World's Best Loved Books - 1977
The Good Earth - Pulitzer Prize Classics -1983
Pearl Sydenstricker Buck born in 1892 was an American author, born in Hillsboro, W. Va. The daughter of American missionaries, Pearl S. Buck lived in China during her childhood, and received her higher education in the United States, graduating from Randolph-Macon College for Women, Lynchburg,Va., in 1914. Pearl S. Buck returned to China in 1917. Between 1921 and 1931 she taught English Literature at various Nanking universities, including the University of a Nanking and Chung Yang University. In 1933 Pearl S. Buck returned to America. Pearl S. Buck was awarded the Nobel Prize for literature in 1938. Her works sympathetically portray China and its people.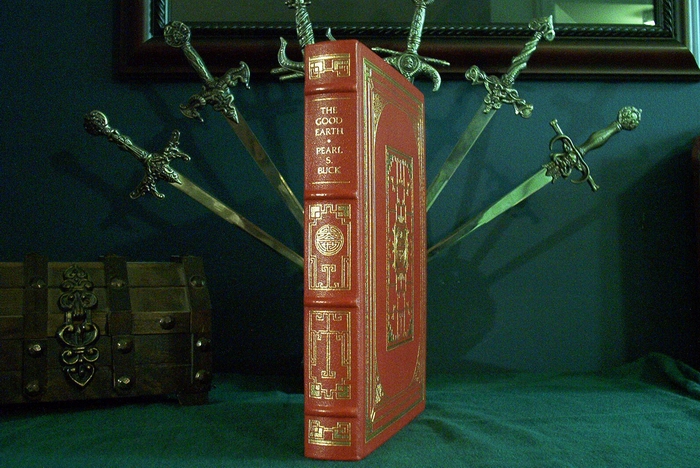 The Good Earth
This tells the poignant tale of a Chinese farmer and his family in old agrarian China. The humble Wang Lung glories in the soil he works, nurturing the land as it nurtures him and his family. Nearby, the nobles of the House of Hwang consider themselves above the land and its workers; but they will soon meet their own downfall.

Hard times come upon Wang Lung and his family when flood and drought force them to seek work in the city. The working people riot, breaking into the homes of the rich and forcing them to flee. When Wang Lung shows mercy to one noble and is rewarded, he begins to rise in the world, even as the House of Hwang falls.

All Men are Brothers
This book is translated from the Chinese by Pearl S Buck. China's great classic novel Outlaws of the Marsh, written in the fourteenth century, is a fictional account of twelfth-century events during the Song Dynasty. One by one, over a hundred men and women are forced by the harsh feudal officialdom to take to the hills. They band together and defeat every attempt of the government troops to crush them. Within this framework we find intrigue, adventure, murder, warfare, romance ... in a connected series of fascinating individual tales, told in the suspenseful manner of the traditional storyteller.