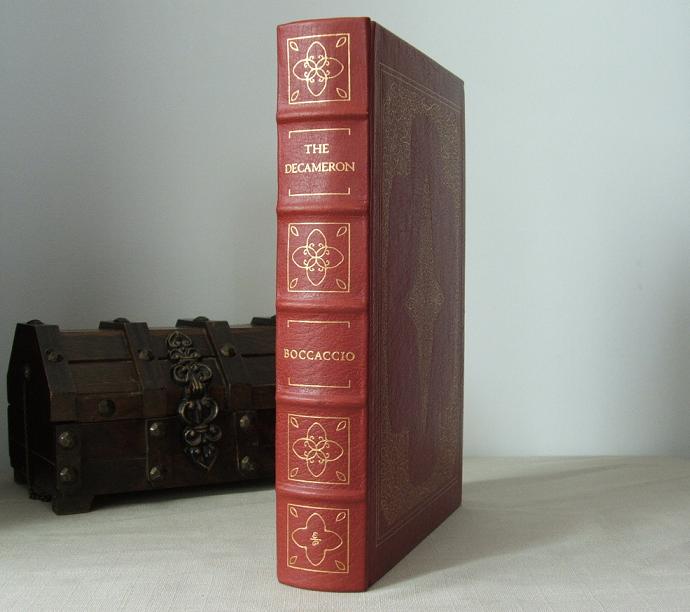 Easton Press Giovanni Boccaccio books:
The Decameron - 1980

Franklin Library Giovanni Boccaccio books:
Stories From The Decameron - Collected Stories of the World's Greatest Writers - 1977
The Decameron - 100 Greatest Books of All Time - 1979


Giovanni Boccaccio biography
Giovanni Boccaccio, (1313-75), was an Italian writer, born in Paris, the illegitimate son of Boccaccio Di Chellino, A Florentine merchant, and a French nobleman reared in Florence. Boccaccio was sent about 1323 to study accounting in Naples. Giovanni Boccaccio abandoned accounting for canon law, and this for classical and scientific studies, and took part in the gay life of Robert d,Anjou, King of Naples. The illegitimate daughter of Robert, Maria de Conti d, Aquino, became his mistress and inspired a great deal of his work; she is immortalized in his writings as "Fiammetta".

About 1340 Giovanni Boccaccio settled in Florence, where he performed various diplomatic services for the government of the city and met the celebrated Italian poet Petrarch, with whom he kept a close friendship until Petrarch, s death in 1374. In 1362 Giovanni Boccaccio was invited to Naples by a friend, who promised him the patronage of Queen Joanne of that city. A cold reception at the Queen's court led him to seek the hospitality of Petrarch, who was then in Venice (1363). Rejecting Patriarch's offer of a home, however, he returned to his Certaldo estate. His last years, in which he turned to religious meditation, were brightened by his appointment as lecturer on the Italian poet Dante Alighieri in Florence in 1373, but his series of lectures was interrupted by illness in 1374, and Giovanni Boccaccio died the next year.
The Decameron
Giovanni Boccaccio's most important work is the Decameron, written between 1348 and 1353. This witty and high-spirited collection of tales, the first prose masterpiece of the Italian Renaissance, holds a high place in world literature, and has established Giovanni Boccaccio as one of the greatest writers of all time.
The Decameron is a collection of 100 tales by Giovanni Boccaccio written between 1348 and 1353. The frame work for the narrative is provided by a group of friends, seven women and three men, all "well bred, of worth and discretion", who take refuge in the countryside above plague ridden Florence, and entertain each other with a series of anecdotes, told in turn by members of the party. At the end of the hundredth tale, the friends return home.


The Decameron, more than any other of Giovanni Boccaccio's works, establishes his place among the great writers of all time. In it Boccaccio gathers material from all sources including the French fabliaux, the classics, current folklore, and contemporary life. The Decameron has been a storehouse for writers of narrative from Giovanni Boccaccio's era to modern times; hundreds of writers including Chaucer and Shakespeare have drawn from it. The perfection of Giovanni Boccaccio's craftsmanship, likewise, has made his work a model for storytelling.