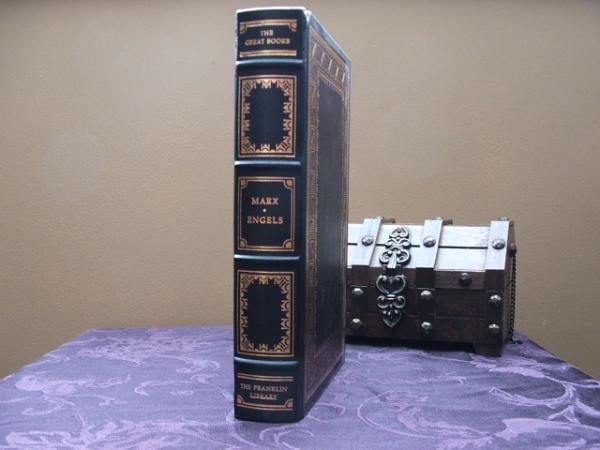 Easton Press Friedrich Engels books:
The Communist Manifesto and Other Writings - Friedrich Engels and Karl Marx - 2005

Franklin Library Friedrich Engels books:
Das Kapital and The Communist Manifesto - Friedrich Engels and Karl Marx - Great Books of the Western World - 1984
The Communist Manifesto
Published in 1848, at a time of political upheaval in Europe, Karl Marx and Friedrich Engels's Manifesto for the Communist Party was at once a powerful critique of capitalism and a radical call to arms. It remains the most incisive introduction to the ideas of Communism and the most lucid explanation of its aims. Much of what it proposed continues to be at the heart of political debate into the 21st century. It is no surprise, perhaps, that The Communist Manifesto (as it was later renamed) is the second bestselling book of all time, surpassed only by the Bible.
Das Kapital (Capital: A Critique of Political Economy)
Capital by Karl Marx is a foundational theoretical text in materialist philosophy, economics and politics. Marx aimed to reveal the economic patterns underpinning the capitalist mode of production, in contrast to classical political economists such as Adam Smith, Jean-Baptiste Say, David Ricardo and John Stuart Mill. Marx did not live to publish the planned second and third parts, but they were both completed from his notes and published after his death by his colleague Friedrich Engels. Capital is the most cited book in the social sciences published before 1950.