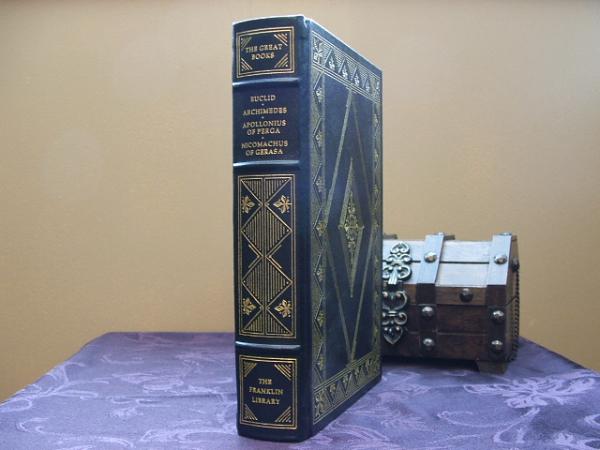 Easton Press Euclid books:
Euclid's Elements of Geometry - 2002

Franklin Library Euclid books:
Works of Archimedes, Apollonius, Euclid and Nicomachus - Great
Books of the Western World - 1985
Elements of Geometry
Euclid also known as Euclid of Alexandria, was a Greek mathematician, often referred to as the "Father of Geometry". He was active in Alexandria during the reign of Ptolemy I (323–283 BC). His Stoicheia (Elements) is a 13-volume exploration all corners of mathematics, based on the works of, inter alia, Aristotle, Eudoxus of Cnidus, Plato, Pythagoras. It is one of the most influential works in the history of mathematics, presenting the mathematical theorems and problems with great clarity, and showing their solutions concisely and logically. Thus, it came to serve as the main textbook for teaching mathematics (especially geometry) from the time of its publication until the late 19th or early 20th century. In the Elements, Euclid deduced the principles of what is now called Euclidean geometry from a small set of axioms. Euclid also wrote works on perspective, conic sections, spherical geometry, number theory and rigor. He is sometimes credited with one original theory, a method of exhaustion through which the area of a circle and volume of a sphere can be calculated, but he left a much greater mark as a teacher.