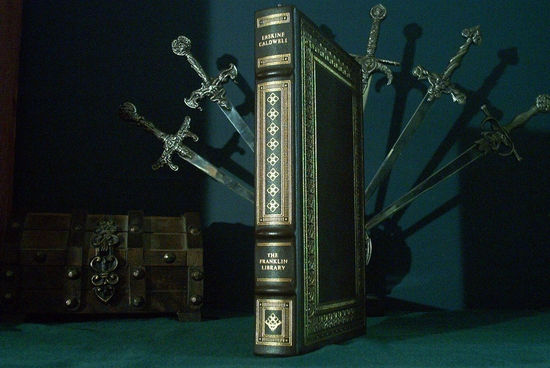 Erskine Caldwell biography
Erskine (Preston) Caldwell, (1903 - 1987), American writer, born in White Oak, Ga., and educated at the universities of Virginia and Pennsylvania. Erskine Caldwell is the author of many short stories and novels describing the lives of the poor-white sharecroppers of the Southern States, particularly Georgia. Much of Erskine Caldwell's work is characterized by early humor and undertones of indignation at social injustice. Among Erskine Caldwell's works are the novelettes The Bastard (1929) and Poor Fool (1930); the books of short stories Kneel to the Rising Sun (1935), Southways (1938), Gulf Coast Stories (1956), and Erskine Caldwell's Men and Women (1961); the novels Tobacco Road (1932), God's Little Acre (1933), Georgia Boy (1943), Tragic Ground (1944), The Sure Hand of God (1947), Love and Money (1954), and Gretta (1955); the autobiography Call It Experience (1951); and the sociological work In Search of Bisco (1965). Dramatized (1933) by the American playwright and producer John Kirkland, Tobacco Road enjoyed one of the longest runs in the history of the American theater. Erskine Caldwell also wrote the text of books with photographs by the American photographer Margaret Bourke-White, notably You Have Seen Their Faces (1937), North of the Danube (1938), Shooting the Russian War (1942), and This Very Earth (1948).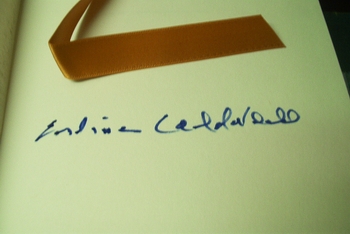 Franklin Library Erskine Caldwell books:
God's Little Acre - signed limited edition -1979
Collected Stories - collected stories of worlds greatest writers - 1980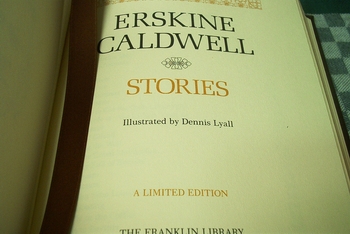 God's Little Acre

Like Tobacco Road, this novel chronicles the final decline of a poor white family in rural Georgia. Exhorted by their patriarch Ty Ty, the Waldens ruin their land by digging it up in search of gold. Complex sexual entanglements and betrayals lead to a murder within the family that completes its dissolution. Juxtaposed against the Waldens' obsessive search is the story of Ty Ty's son-in-law, a cotton mill worker in a nearby town who is killed during a strike.First published in 1933, God's Little Acre was censured by the Georgia Literary Commission, banned in Boston, and once led the all-time best-seller list, with more than ten million copies in print.