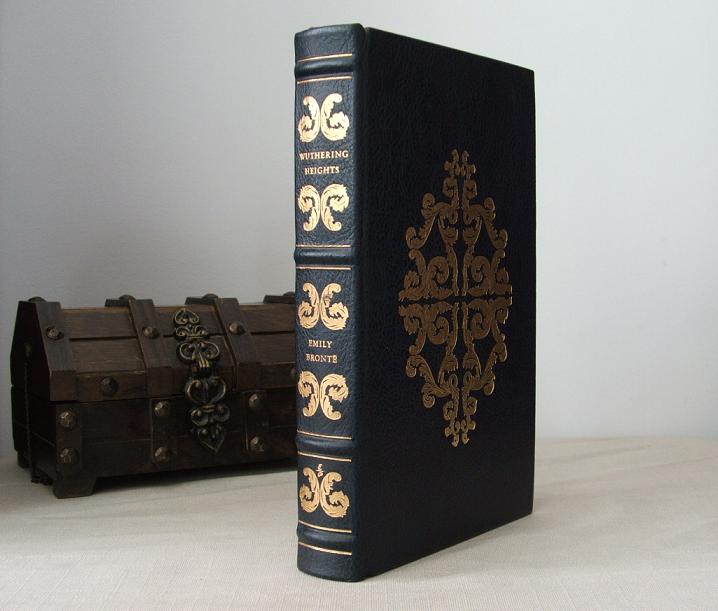 Easton Press Emily Brontë books:

Franklin Library Emily Brontë books:
Wuthering Heights - 100 Greatest Books of All Time - 1975
Wuthering Heights - World's Best Loved Books - 1978
The novels of Charlotte and Emily Brontë are remarkable for their insight into character, and for the frankness with which they depicted the passions of their heroines, at a time when Victorian traditions in England dictated that women be portrayed as gentle creatures who lived conventional and passionless lives. Emily Brontë was also a poet of distinction. Her Old Stoic (contained in Poems) and her Last Lines (published posthumously) are notable contributions to English poetry.
Wuthering Heights
At the centre of this novel is the passionate love between Catherine Earnshaw and Heathcliff recounted with such emotional intensity that a plain tale of the Yorkshire moors acquires the depth and simplicity of ancient tragedy.

Marooned overnight in a lonely home on the Yorkshire moors, the effete Lockwood dreams of a wraith locked out in the snow. Gradually he learns the violent history of the house's owner, the fierce, saturnine Heathcliff and the thwarted love that has led him to exact terrible revenge on the two families that have sought to oppose him.

Since its original publication in 1847, Emily Bronte's only novel, whether repelling, captivating or intriguing different generations of readers, has never relaxed its powerful grip on the public, and the figure of the haunted, brutal Heathcliff has become part of Britain's cultural mythology.