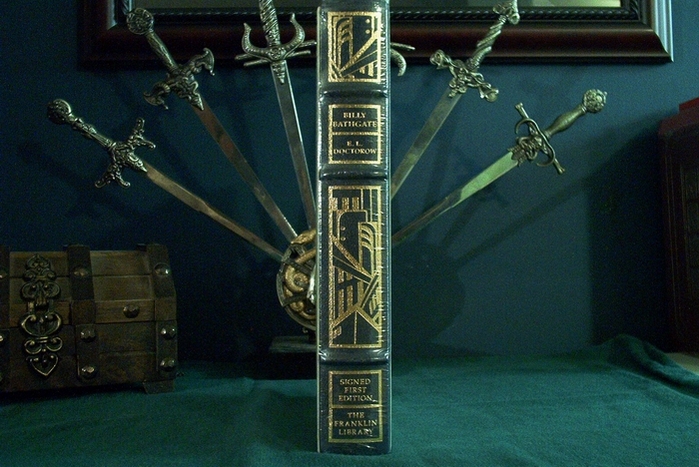 Easton Press E. L. Doctorow books:
Ragtime - signed modern classic - 2001
The March - signed limited edition (signed by both E.L. Doctorow and Mort Kunstler) - 2007
Homer and Langley - signed first edition - 2009
Franklin Library E. L. Doctorow books:
Loon Lake - limited first edition ( not signed by E.L. Doctorow ) - 1980
Billy Bathgate - signed first edition - 1989
The Waterworks - signed first edition - 1994
City of God - signed first edition - 2000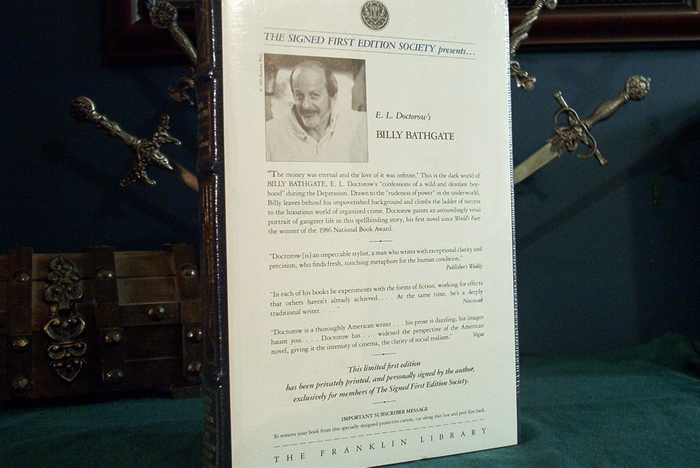 Billy Bathgate
In 1930's New York, Billy Bathgate, a fifteen-year-old high school dropout, has captured the attention of infamous gangster Dutch Schultz, who lures the boy into his world of racketeering. The product of an East Bronx upbringing by his half-crazy Irish Catholic mother, after his Jewish father left them long ago, Billy is captivated by the world of money, sex, and high society the charismatic Schultz has to offer. But it is also a world of extortion, brutality, and murder, where Billy finds himself involved in a dangerous affair with Schultz's girlfriend.Relive this story through the title character's driving narrative, a child's thoughts and feelings filtered through the sensibilities of an adult, and the result is E.L. Doctorow's most convincing and appealing portrayal of a young boy's life. Converging mythology and history, one of America's most admired authors has captured the romance of gangsters and criminal enterprise that continues to fascinate the American psyche today.

Ragtime
Published in 1975, Ragtime changed our very concept of what a novel could be. An extraordinary tapestry, Ragtime captures the spirit of America in the era between the turn of the century & the First World War. The story opens in 1906 in New Rochelle, NY, at the home of an affluent American family. One lazy Sunday afternoon, the famous escape artist Harry Houdini swerves his car into a telephone pole outside their house. Almost magically, the line between fantasy & historical fact, between real & imaginary characters, disappears. Henry Ford, Emma Goldman, J.P. Morgan, Evelyn Nesbit, Sigmund Freud & Emiliano Zapata slip in & out of the tale, crossing paths with Doctorow's imagined family & other fictional characters, including an immigrant peddler & a ragtime musician from Harlem whose insistence on a point of justice drives him to revolutionary violence.


The March
In 1864, Union general William Tecumseh Sherman marched his sixty thousand troops through Georgia to the sea, and then up into the Carolinas. The army fought off Confederate forces, demolished cities, and accumulated a borne-along population of freed blacks and white refugees until all that remained was the dangerous transient life of the dispossessed and the triumphant. In E. L. Doctorow's hands the great march becomes a floating world, a nomadic consciousness, and an unforgettable reading experience with awesome relevance to our own times.


Homer & Langley
From Ragtime and Billy Bathgate to The Book of Daniel, World's Fair, and The March, the novels of E. L. Doctorow comprise one of the most substantive achievements of modern American fiction. Now, with Homer & Langley, this master novelist has once again created an unforgettable work.

Homer and Langley Collyer are brothers the one blind and deeply intuitive, the other damaged into madness, or perhaps greatness, by mustard gas in the Great War. They live as recluses in their once grand Fifth Avenue mansion, scavenging the city streets for things they think they can use, hoarding the daily newspapers as research for Langley's proposed dateless newspaper whose reportage will be as prophecy. Yet the epic events of the century play out in the lives of the two brothers wars, political movements, technological advances and even though they want nothing more than to shut out the world, history seems to pass through their cluttered house in the persons of immigrants, prostitutes, society women, government agents, gangsters, jazz musicians... and their housebound lives are fraught with odyssean peril as they struggle to survive and create meaning for themselves.

Brilliantly conceived, gorgeously written, this mesmerizing narrative, a free imaginative rendering of the lives of New York's fabled Collyer brothers, is a family story with the resonance of myth, an astonishing masterwork unlike any that have come before from this great writer.



Loon Lake
It is America in the great depression, and he is a child of that time, that place. He runs away from home in Paterson, New Jersey, to New York City and learns the bare bones of life before he hits the road with a traveling carnival. Then one icy night in the Adirondacks, the young man sees a private train roar by. In its lit windows, he spies an industrial tycoon, a poet, a gangster, and a heartbreakingly beautiful girl. He follows them, as one follows a dream, to an isolated private estate on Loon Lake.

Thus the stage is set for a spellbinding tale of mystery and menace, greed and ambition, harsh lust and tender love, that lays bare the darkest depths of the human heart and the nightmarish underside of the American dream. E. L. Doctorow has written a novel aglow with poetry and passion, lit by the burning fire of humanity and history, terror and truth.


The Waterworks
One rainy morning in 1871 in lower Manhattan, Martin Pemberton a freelance writer, sees in a passing stagecoach several elderly men, one of whom he recognizes as his supposedly dead and buried father. While trying to unravel the mystery, Pemberton disappears, sending McIlvaine, his employer, the editor of an evening paper, in pursuit of the truth behind his freelancer's fate. Layer by layer, McIlvaine reveals a modern metropolis surging with primordial urges and sins, where the Tweed Ring operates the city for its own profit and a conspicuously self-satisfied nouveau-riche ignores the poverty and squalor that surrounds them.


City of God
Daringly poised at the junction of the sacred and the profane, and filled with the sights and sounds of New York a narrative of the twentieth century written for the twenty-first.

In his workbook, a New York City novelist records the contents of his teeming brain sketches for stories, accounts of his love affairs, riffs on the meanings of popular songs, ideas for movies, obsessions with cosmic processes. He is a virtual repository of the predominant ideas and historical disasters of the age. But now he has found a story he thinks may be-come his next novel: The large brass cross that hung behind the altar of St. Timothy's, a run-down Episcopal church in lower Manhattan, has disappeared...and even more mysteriously reappeared on the roof of the Synagogue for Evolutionary Judaism, on the Upper West Side. The church's maverick rector and the young woman rabbi who leads the synagogue are trying to learn who committed this strange double act of desecration and why. Befriending them, the novelist finds that their struggles with their respective traditions are relevant to the case. Into his workbook go his taped interviews, insights, preliminary drafts...and as he joins the clerics in pursuit of the mystery, it broadens to implicate a large cast of vividly drawn characters including scientists, war veterans, prelates, Holocaust survivors, cabinet members, theologians, New York Times reporters, filmmakers, and crooners in what proves to be a quest for an authentic spirituality at the end of this tortured century.

Daringly poised at the junction of the sacred and the profane, and filled with the sights and sounds of New York, this dazzlingly inventive masterwork emerges as the American novel readers have been thirsting for a defining document of our times, a narrative of the twentieth century written for the twenty-first.