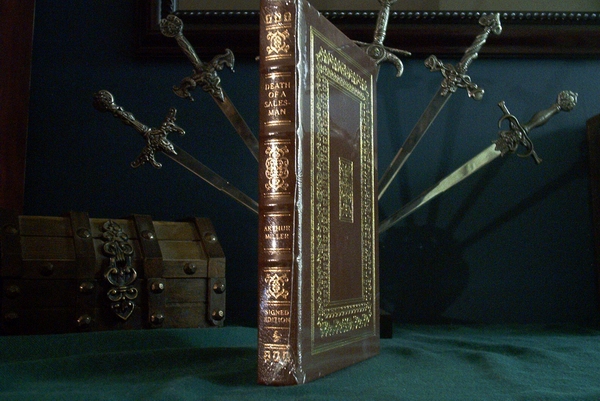 Easton Press Arthur Miller books:
Death of a Salesman - signed modern classic - 2002 ( red leather )
Death of a Salesman - 2002 ( blue leather - not signed )

Franklin Library Arthur Miller books:
Plays - 1977
Collected Plays - signed limited edition - 1980
Collected Plays - Greatest masterpieces of American literature series - 1981
Plays: Death of a Salesman - Pulitzer Prize classics - 1986
Timebends - signed first edition - 1987

Arthur Miller biography
Arthur Miller (1916-2005) was an American author who was born in New York City, and attended the University of Michigan. He served as a reporter and editor at the student news paper The Daily Michigan. It was around this time that his first play No Villain won the Avery Hopwood Award for play writing. In 1940 Arthur Miller married Mary Slattery with whom he later had two children. It was also in 1940 that he wrote the play The Man Who Had All The Luck which was produced later that year. In 1945 he wrote his first novel Focus. In 1947 he won the Drama Critics' Circle award for best play for All My Sons. Arthur Miller began writing his famous play Death of o Salesman in 1948, and it debuted on Broadway in February of 1949. He subsequently won the Pulitzer Prize for drama, and a Tony award for Death of a Salesman in 1949. Another of his famous plays The Crucible won an Antoinette Perry Award in 1953. In 1956 he separated from Mary Slattery and Married famous actress Marilyn Monroe.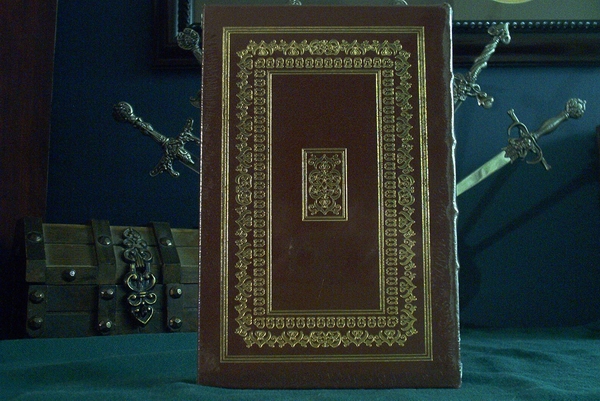 For a period of time Arthur Miller used the penn name Jonathan Lovelett, and used this name as his personal identity. This resulted from a controversy surrounding his membership in the Communist Party. In 1961 he divorced Marilyn Monroe and was married again in 1962 to Inge Morath with whom he had two more children. Over the course of his life, Arthur miller wrote many books and plays including:
They Too Arise - 1937
Honors at Dawn - 1938
The Grass Still Grows - 1938
The Great Disobedience - 1938
Listen My Children - 1939
The Golden Years - 1940
The Half-Bridge - 1943
The Hook - 1947
An Enemy of the People - 1950
A View from the Bridge - 1955
A Memory of Two Mondays - 1955
The Misfits - 1961
After the Fall - 1964
Incident at Vichy - 1964
I Don't Need You Anymore - 1967
The Price - 1968
Fame - 1970
The Creation of the World and Other Business - 1972
The Archbishop's Ceiling - 1977
The American Clock - 1980
Playing For Time - 1980
Elegy for a Lady - 1982
Some Kind of Love Story - 1982
Everybody Wins - 1984
I Think About You a Great Deal - 1986
Playing for Time - 1985
I Can't Remember Anything - 1987
Clara - 1987
The Last Yankee - 1991
The Ride Down Mt. Morgan - 1991
Homely Girl - 1992
Broken Glass - 1994
Mr Peter's Connections - 1998
Resurrection Blues - 2002
Finishing the Picture - 2004