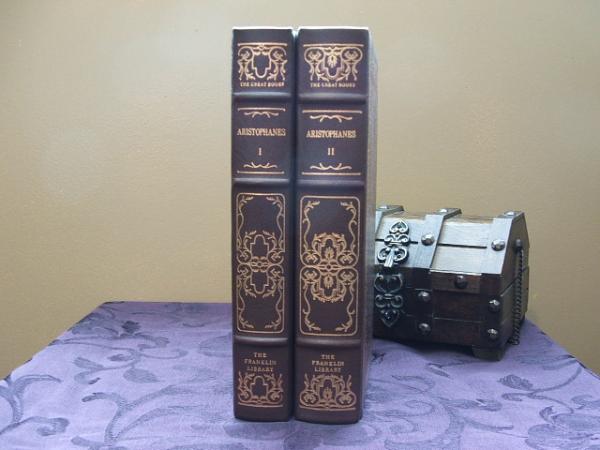 Easton Press Aristophanes books:
Lysistrata
The Birds and The Frogs

Franklin Library Aristophanes books:
Five Comedies of Aristophanes - 100 Greatest Books of All Time - 1982
Plays of Aristophanes - Great Books of the Western World - 2 Volumes 1982


Aristophanes (448?-380? B.C.) was an Athenian playwright, one of the greatest writers of comedy in literary history. Little is known of his personal life. Aristophanes is believed to have been born in Cydathene, the son of one Philippos, to have been well educated, and to have had property in the island of Egina. He had three sons, Philippos, Araros, and Nicostratos, all of whom were comic poets.

Aristophanes was noted for his conservatism. He favored aristocratic rule rather than democratic, and the established philosophical and theological ideas rather than the new ideas of the Sophists; and Aristophanes condemned the new type of tragedy being written by Euripides. Aristophanes wrote more than 40 plays, of which 11 are extant. His first three plays were produced under pseudonyms.
Lysistrata
Aristophanes' comic masterpiece of war and sex remains one of the greatest plays ever written. Led by the title character, the women of the warring city-states of Greece agree to withhold sexual favours with their husbands until they agree to cease fighting. The war of the sexes that ensues makes Lysistrata a bawdy comedy without peer in the history of theatre.


Notable works by Aristophanes
The darker comedy of The Clouds satirizes Athenian philosophers and Socrates in particular and reflects the uncertainties of a generation in which all traditional religious and ethical beliefs were being challenged. The Birds takes place in a flawed utopia, with man's eternal flaws observed from up above. In Lysistrata a band of women use sex's manipulative power in order to try and end a war. In The Frogs, the god Dionysus visits the underworld, consulting the late Aeschylus and Euripides regarding whether or not classical Athens will ever have another great dramatist and provoking an argument between both.