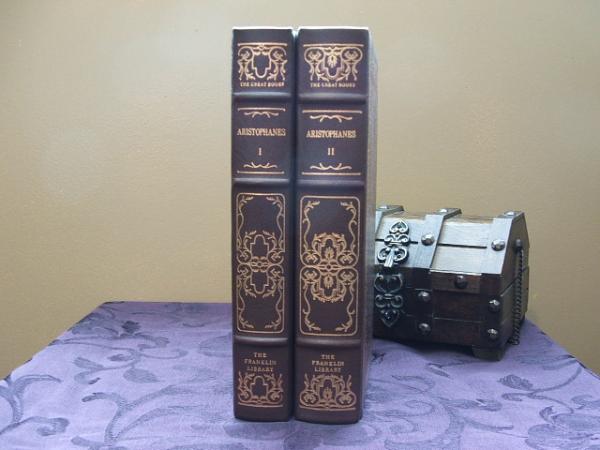 Easton Press Aristophanes books:
Lysistrata
The Birds and The Frogs
Franklin Library Aristophanes books:
Five Comedies of Aristophanes - 100 Greatest Books of All Time - 1982
Plays of Aristophanes - Great Books of the Western World - 2 Volumes 1982



Aristophanes (448?-380? B.C.) was an Athenian playwright, one of the greatest writers of comedy in literary history. Little is known of his personal life. Aristophanes is believed to have been born in Cydathene, the son of one Philippos, to have been well educated, and to have had property in the island of Egina. He had three sons, Philippos, Araros, and Nicostratos, all of whom were comic poets.

Aristophanes was noted for his conservatism. He favored aristocratic rule rather than democratic, and the established philosophical and theological ideas rather than the new ideas of the Sophists; and Aristophanes condemned the new type of tragedy being written by Euripides. Aristophanes wrote more than 40 plays, of which 11 are extant. His first three plays were produced under pseudonyms.