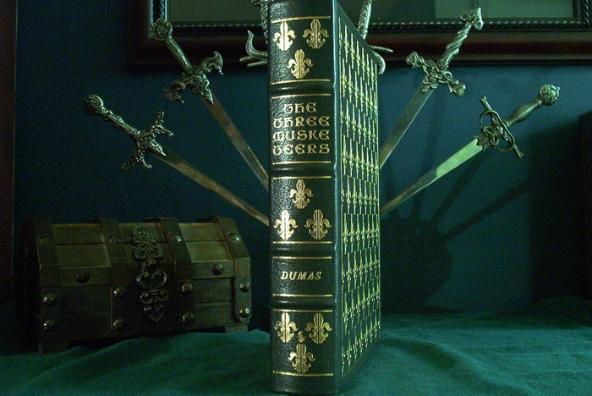 Easton Press Alexandre Dumas books:
The Three Musketeers - 1978
Camile - Collector's Library of Famous Editions - 1983
The Count of Monte Cristo - Collector's Library of Famous Editions (2 volume set) - 1941
The Man in Iron Mask - Collector's Library of Famous Editions - 1985

Franklin Library Alexandre Dumas books:
The Three Musketeers - World's Best Loved Books - 1978
Stories by Alexandre Dumas - Collected Stories of the World's Greatest Writers - 1980


Alexandre Dumas biography:
Alexandre Dumas, known as Dumas Pere (1803-70), French novelist and playwright, the son of the French general Alexandre Dumas, born at Villers-Cotterets, France. He had little formal education. Alexandre Dumas worked as a clerk, first to a notary and then in the service of the Duke of Orleans, studying French history in his spare time. The performances in Paris of an English Shakespearean company, headed by Charles Kemble, inspired him to write for the theater. His first works to be produced were the vaudevilles La Chasse et l,Amour (1825) and La Noce et Enterrement (1826), both written in collaboration with other authors. The Comedie-Francaise produced his play Henri 111 et Sa Cour in 1829, and an earlier work, the romantic drama, Christine, in 1830. These plays established Alexandre Dumas' reputation as a dramatist. They were followed by numerous works for the theater, for which Dumas is best known in France, and by the historical novels for which he is even more famous outside of France.
Alexandre Dumas was a prolific writer; about 1200 volumes were published under his name. Although many of these works were the result of collaboration or were the production of a fiction factory in which hired writers completed or executed his ideas, almost all the writing bears the unmistakable imprint of Alexandre Dumas' personal genius and inventiveness. His earnings were enormous but scarcely sufficient in his later years to sustain his extravagant style of living, which involved the maintenance of an estate (Monte-Cristo) and a horde of attendant parasites, or to compensate for the loses incurred in the operation of a theater devoted chiefly to his own plays and of several news papers. Alexandre Dumas died in comparative poverty.

The Three Musketeers - The d'Artagnan Romances book 1
Alexandre Dumas's most famous tale and possibly the most famous historical novel of all time.

A timeless tale of adventure, romance, intrigue, and revenge, "The Three Musketeers" is the captivating story of d'Artagnan, a young man of Gascony, who is determined to become a Musketeer of the Guard. Through his wit and skill with a sword, he befriends Athos, Porthos, and Aramis and begins on the path toward his dream. They must foil the nefarious plotting of Cardinal Richelieu against the King and Queen, despite his appearance as an ally. D'Artagnan and the three Musketeers must also overcome the villainous machinations of Milady de Winter, whose lethal criminality threatens those in political power and the love of d'Artgnan for Constance Bonacieux. Dumas' classic story, first serialized in 1844, has enthralled readers with its fast-paced plot, endearing characters, and romantic ideals, immortalized by the motto "one for all, all for one."

This swashbuckling epic of chivalry, honor, and derring-do, set in France during the 1620s, is richly populated with romantic heroes, unattainable heroines, kings, queens, cavaliers, and criminals in a whirl of adventure, espionage, conspiracy, murder, vengeance, love, scandal, and suspense. Dumas transforms minor historical figures into larger- than-life characters: the Comte d'Artagnan, an impetuous young man in pursuit of glory; the beguilingly evil seductress "Milady"; the powerful and devious Cardinal Richelieu; the weak King Louis XIII and his unhappy queen and, of course, the three musketeers themselves, Athos, Porthos, and Aramis, whose motto "all for one, one for all" has come to epitomize devoted friendship. With a plot that delivers stolen diamonds, masked balls, purloined letters, and, of course, great bouts of swordplay, The Three Musketeers is eternally entertaining.





The Count of Monte Cristo
Alexandre Dumas' classic novel of wrongful imprisonment, adventure and revenge.

Thrown in prison for a crime he has not committed, Edmond Dantès is confined to the grim fortress of the Château d'If. There he learns of a great hoard of treasure hidden on the Isle of Monte Cristo and becomes determined not only to escape but to unearth the treasure and use it to plot the destruction of the three men responsible for his incarceration.

A huge popular success when it was first serialized in the 1840s, Dumas was inspired by a real-life case of wrongful imprisonment when writing his epic tale of suffering and retribution.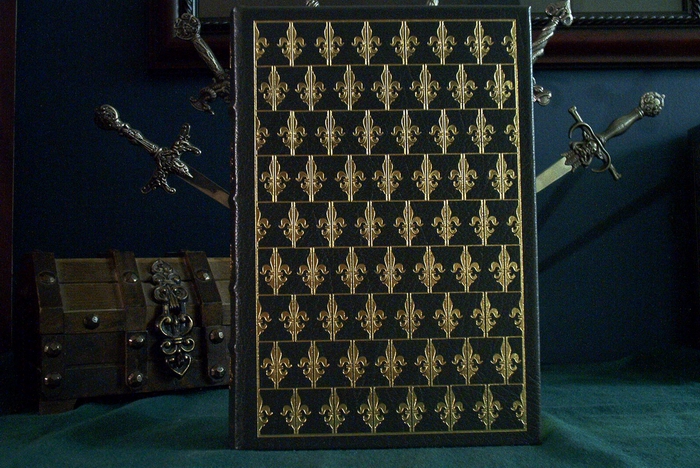 The Man in Iron Mask - The d'Artagnan Romances book 3.4
In the concluding installment of Alexandre Dumas's celebrated cycle of the Three Musketeers, D'Artagnan remains in the service of the corrupt King Louis XIV after the Three Musketeers have retired and gone their separate ways. Unbeknownst to D'Artagnan, Aramis and Porthos plot to remove the inept king and place the king's twin brother on the throne of France. Meanwhile, a twenty-three-year-old prisoner known only as "Philippe" wastes away deep inside the Bastille. Forced to wear an iron mask, Phillippe has been imprisoned for eight years, has no knowledge of his true identity, and has not been told what crime he's committed. When the destinies of the king and Phillippe converge, the Three Musketeers and D'Artagnan find themselves caught between conflicting loyalties.
Camille: A Play in Five Acts
One of the greatest love stories of all time, this novel has fascinated generations of readers. Dumas's subtle and moving portrait of a woman in love is based on his own love affair with one of the most desirable courtesans in Paris.

Beautiful Marguerite Gautier, seduced at the age of fifteen by her Marquis employer, decides on a courtesan life. She meets Armand Duval, son of the Marquis, and the two fall desperately in love. Aware that she is in the initial stage of tuberculosis, Armand persuades her to settle in the country with him, but Marguerite is threatened by the Marquis and forced to return to Paris, dying and reviled by Armand.