A Prayer for Owen Meany

This is one of my favorite books of all time. It's definitely one that should be on everyone's must read in my lifetime list. I love how Irving takes us on a journey down the path of faith and fate vs. free will, having us decide at the end whether or not Owen Meany is a hero or a villain, a victim of his fate or the mastermind behind a glory chasing life goal. I've read it over and over again and never get sick of it. It takes John Irving a long time to produce each of his novels but it's always worth it in the end. A Prayer for Owen Meany is one of his best; I recommend you give it a read.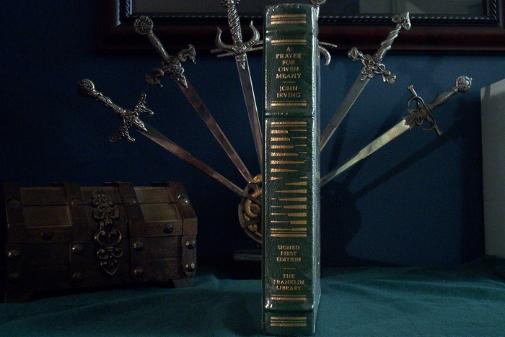 Simon Birch movie adaptation of A Prayer for Owen Meany by John Irving:
Now before I get started on my review of the film, I'd like to point out that I know there is some controversy surrounding this movie, which is the reason why I avoided it for many years after it came out. As with many novel turned into movie ventures, from what I've heard, in the beginning John Irving was fully in support of the making of A Prayer for Owen Meany into a feature film. He understood that to a certain extent some changes had to be made in order to accommodate the lengthy book and transform it into a film. The problem came when so many changes were being made that the movie stopped being about what the book was about and began to transform into something Irving didn't recognize and more importantly did not approve of. Which is when author and film split ways and A Prayer for Owen Meany, the film based on the book, became Simon Birch, a film that kind of resembles the book but not enough for it to be as good as the book.As far as I'm concerned, being an Irving fan to the highest degree, I think that he was right to part ways from the film. I think that in the end the filmmakers took the guts out of the novel and created a simplified and very watered down, tame version of the book. If you're viewing the movie on its own however, without considering its roots, then I would have to argue that it is a heartwarming, sentimental film that is a great family movie and teaches some valuable life lessons. It's safe. I've only watched it a couple of times, when it's been played on TV and I have nothing better to do. There are quite a few great actors in it and the technical aspects of the film are good but on the whole, the movie itself is not spectacular. I would still like to see a true version of A Prayer for Owen Meany to come out as a film, even if it has to be a made for TV version in order for them to get it right.
Review by A. Barrett