The first hunting book written by Theodore Roosevelt, his celebrated classic, Hunting Trips of a Ranchman, originally published in 1885 when Roosevelt was 27 years old.

This fascinating book tells the story of Theodore Roosevelt's earliest hunts in the Dakota Badlands, where he hunted for wild turkey, grouse, waterfowl, buffalo, deer, elk, big-horn sheep, prong-horn antelope, and, as described in its celebrated last chapter, "Old Ephriam," his first spine-tingling encounter with a grizzly bear.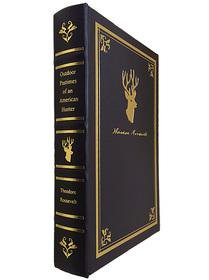 Make no mistake: the great Theodore Roosevelt was one of the first statesman to recognize the need for game conservation. His tremendous foresight bursts through every page of this Library.
What a rare treat! The influential Saturday Review characterized it as "one of the rare books which sportsman will be glad to add to their libraries." That was true yesterday and it's even more true today.

With its rousing adventure stories, coupled with its fame and rarity as the first major writing of America's most celebrated hunter... plus its elegant enhancements of gold-embossed leather bindings... if ever a book could be called "estate quality" and worthy of acquisition, this brilliant and expensive-looking edition of Hunting Trips of a Ranchman is one!